Robert Lindsay to star in antiques shop sitcom Bull
Robert Lindsay to star in antiques shop sitcom Bull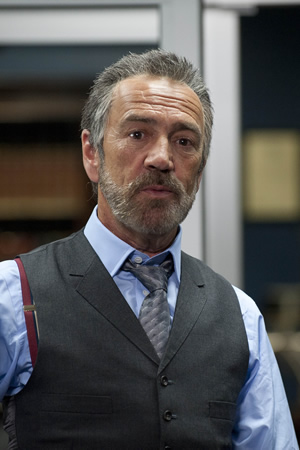 Robert Lindsay and Maureen Lipman are to lead the cast of Bull, a TV sitcom set in an antiques shop.
The three-part series is one of a number of new shows commissioned by comedy channel Gold.
The channel says: "Bull is a studio comedy with a unique and quirky sense of humour, featuring the eponymous Rupert Bull (Robert Lindsay), a man who attempts to run his antiques shop aided and hampered in equal measure by his team of dysfunctional staff, Beverley (Maureen Lipman), Faye (Claudia Jessie - Doctors) and Toby (Naz Osmanoglu - Flat TV, Horrible Histories)."
The cast also includes Toby Williams (Paddington) and Kevin Eldon, with a guest appearance by Matt Lucas.
This will be Robert Lindsay's first lead sitcom role since playing a secret service boss in Sky1's Spy (pictured), and his first studio sitcom since the long-running BBC comedy My Family.
Bull has been created by Gareth Gwynn and John-Luke Roberts. As writers, they have previously worked on a number of radio shows, including Here Be Dragons, The Now Show and The News Quiz.
The TV scripts are loosely based on Antiquity, a Radio 4 pilot they created in 2010 with Tim McInnerny in the lead role.
Simon Lupton, Commissioning Editor for Gold owner UKTV, comments: "What could possibly go wrong in a quintessentially English antiques shop managed by an energetic eccentric and staffed by a bizarre bunch of characters? The answer is quite a lot - and that is the premise for this fast-paced, contemporary sitcom, written with verve by a new writing partnership.
"Whether Rupert Bull and his clueless staff are trying to restore Faberge eggs, value Edwardian ball bearings or work on luring in new customers with a creepy window display of dead animals, it always ends in hilarious disaster.
"Robert Lindsay is one of our most versatile and funny actors, perfect to lead this cast as the loveable but completely hopeless Bull. We think the Gold audience will fall in love with all these charming, disparate characters, who really are the proverbial bulls in a china shop."
Bull will be directed by Simon Gibney (Horrible Histories) and produced by Jack Cheshire (The Wrong Door). Experienced comedy producer Paul Jackson has been named as the Executive Producer.
The show, which is being made by John Stanley Productions, is due to go into production soon and will be shown on Gold later in the year.
Share this page