The Brittas Empire looks set to return to TV
The Brittas Empire looks set to return to TV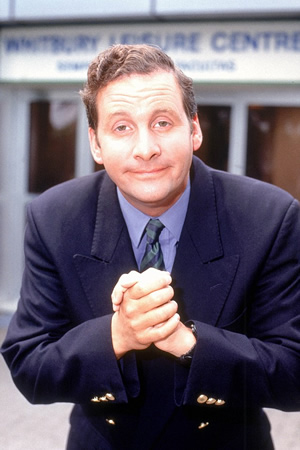 The Brittas Empire, the long-running sitcom set in a leisure centre, looks set to return to TV after a break of 18 years.
Star Chris Barrie, who played pompous centre boss Gordon Brittas in 53 episodes of the sitcom, revealed at a comic convention that a new script now exists.
The actor reportedly said: "There's no secret to the fact that there's a script that's being commissioned by the BBC for a new Brittas Empire. So there's a chance that I may well be back.
"One of the original writers is behind it and fingers crossed it happens before I completely forget how to say my name. The script stage is supposed to be done now. I may be seeing something this summer on it. So fingers crossed."
It is believed Barrie was referring to Richard Fegen as the writer who is working on the project. Fegen co-created the show with Andrew Norriss in 1991, but Norriss no longer writes for television.
It has been known for some time that Barrie is keen to revive his manager character. He first expressed an interest in playing Gordon Brittas again last July.
The Brittas Empire ran for 7 series in total on BBC One, ending in February 1997. At the peak of its popularity, the show reached an impressive 10 million viewers.
A BBC spokesperson confirmed that a project was in development. It is thought to be a one-off Christmas special.
If The Brittas Empire were to return, it would the latest in a line of BBC sitcoms that were popular in the 1990s making a notable comeback. Red Dwarf - which also stars Chris Barrie - was revived in 2009 on Dave, another two series of which are now confirmed; while Birds Of A Feather was revived in 2014 by ITV, with a 12th series now given the greenlight following strong ratings.
Speaking at the same convention, Barrie's fellow Red Dwarf star Norman Lovett said of The Brittas Empire: "That show was better than a lot of things today. I know there's still a lot of support for The Brittas Empire. And that character would be very funny today."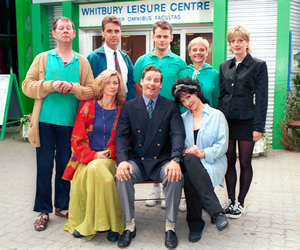 The Brittas Empire was ranked 47th in the 2004 Britain's Best Sitcom poll. It also starred Pippa Haywood as Helen, Gordon's long-suffering wife; with leisure centre staff of Harriet Thorpe as Carole, Michael Burns as Colin, Tim Marriott as Gavin, Russell Porter as Tim, Jill Greenacre as Linda, Judy Flynn as Julie and Julia St John as Laura.
Chris Barrie briefly re-appeared as Brittas in 2014. He made a cameo appearance as the uptight manager in the Little Mix Sport Relief music video.
Further details on the new Brittas Empire project are expected later in the year.
Filming begins on the new series of Red Dwarf in November 2015, so for Brittas to re-appear this year the special would need to be recorded before then. Writing on his website earlier in the year, Barrie said: "Who knows, 2015 just might be the year when the chainsaw voiced buffoon makes a comeback!"
Share this page