David Walliams working on TV talent show sitcom
David Walliams working on TV talent show sitcom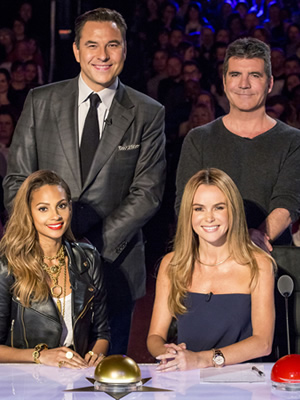 David Walliams is reportedly developing a new sitcom idea based around a TV talent show.
The comedian is now working on a script for the currently un-titled project, inspired in part by his work as a judge on Britain's Got Talent.
The news was revealed by fellow BGT judge Alesha Dixon. Speaking to The Sun, she said that Walliams had approached both her and Amanda Holden to discuss the project.
"There has been a conversation," Dixon told the newspaper. "Amanda and me are very keen to be involved. I think Simon [Cowell] would be up for it too. We'll bully our way in! I told David that whatever he does, just make sure sure I'm a cool character."
She added: "He's constantly sharing ideas, whether it be book ideas or TV ideas. He's very open-minded and is such a creative person."
Dixon has previously joked that the interaction between the judges on Britain's Got Talent already feels like a scripted comedy. She explained: "There's David and Simon who are a couple, then me and Amanda Holden who are TV wives. That's exactly what it is."
This is not the first comedy project to be linked to a Simon Cowell TV show. Last year Harry Hill developed I Can't Sing, a comedy stage musical based on The X Factor. However, the show closed after just six weeks due to low ticket sales.
In 2008, Peter Kay spoofed TV talent shows via the one-off programme Britain's Got The Pop Factor And Possibly A New Celebrity Jesus Christ Soapstar Superstar Strictly On Ice.
David Walliams most recent sitcom is Big School. The BBC One show has run for two series to date, but there is no news yet on whether it will return for a third run.
Share this page