E4 gives Drifters the green light for Series 3
E4 gives Drifters the green light for Series 3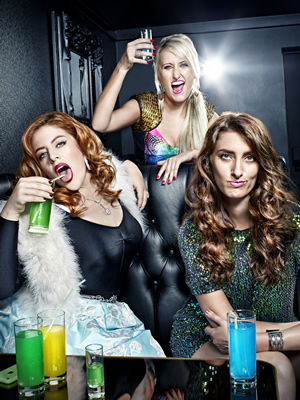 E4 has ordered a third series of Drifters.
The sitcom, written by and starring Jessica Knappett, focuses on three young women living in Leeds who've "graduated, had a year out, and are now struggling to find a job that doesn't suck, a place to live that is half decent and a boyfriend they actually like".
Channel 4 confirms: "Hapless Meg, her eccentric cousin Bunny (Lydia Rose Bewley) and their no nonsense best mate, Leeds lass Laura (Lauren O'Rourke) will return for the new series of 6 episodes. Expect more drunken debauchery, ill-advised relationships and embarrassing jobs as the girls continue to 'embellish' their fantastical CVs."
Knappett said: "I'm absolutely delighted we've got a new series because I've had my eye on a really nice new jumper. It seems people are really enjoying the series and it's great to have the backing of E4 in pushing the boundaries for soft porn comedy. Aside from the fact that it's great to know I am employed for another year, I really feel we have momentum with Drifters now."
She added: "It's a joy to write this filthy silliness knowing I'll get to perform it with two of my best mates who can't say no because I'm the boss lady and they have to do whatever I say. In the new series Meg continues to be a walking disaster, advised by the world's worst best friends Laura and Bunny. Expect more degrading jobs, skint desperation and atrocious sex. And there will be a wedding..."
Drifters, which launched in 2013, is made by Bwark Productions, the production company that previously made The Inbetweeners.
Channel 4's Rachel Springett comments: "Jessica is a formidable talent who we are thrilled to working with on this third series of Drifters. We look forward to seeing what chaos and hilarity Jessica has in store for the girls this time around."
Drifters will form part of an "autumn comedy bonanza" on the Channel 4 network. The final series of both Peep Show and Fresh Meat, and another series of Toast Of London and Catastrophe, will also be broadcast by the network in the autumn.
Share this page