Peter Kay's Car Share streamed 2.8m times on iPlayer
Peter Kay's Car Share streamed 2.8m times on iPlayer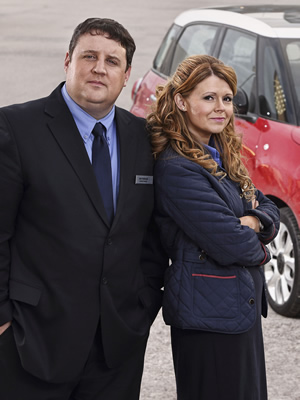 Peter Kay's Car Share has broken a BBC iPlayer record.
The new series, which is Peter Kay's first sitcom role since Phoenix Nights, has been streamed 2.8 million times via the BBC website ahead of its debut on BBC One tonight.
As the BBC continues to test audiences appetites for watching TV through other mediums via its trial involving premièring 40 hours of BBC content online first, the six episodes from the new comedy series were made available on BBC iPlayer from the 24th to 28th April.
The BBC confirms: "Peter Kay's Car Share is BBC iPlayer's most successful series to premiere as a box-set to date, with Episode 1 racking up over 1m requests alone. Viewers took the opportunity to enjoy the full series as all six episodes made it to BBC iPlayer's 'Most Popular' section over the weekend."
The BBC's Shane Allen says: "This is a phenomenal reaction which shows how excited audiences are to see Peter in his first scripted comedy for the BBC. We're so proud of the show and it's heartening that comedy does so well in the new on-demand world. All credit to Peter for his innovative approach with this series launch which hopefully gives it a following wind for the primetime launch on BBC One tonight."
Peter Kay comments: "I've been blown away by the response so far. How could I not be. Here's hoping the success continues and people enjoy the series Wednesday and Thursday on BBC One... at half nine."
It should be noted that, whilst 2.8m requests for a 'box-set series premiere' on iPlayer is a new record, Peter Kay's Car Share hasn't yet set the record for the most iPlayer views on a single episode or on-going series. For example, an episode of Bad Education was watched by over 1.5m viewers last year. Meanwhile Top Gear regularly attracted over 2m requests per individual episode.
Peter Kay's Car Share stars Sian Gibson alongside Peter Kay. The show, created by Tim Reid and Paul Coleman, follows the store of John and Kayleigh, two supermarket workers who have been thrown together in a company car share scheme.
Episode 1 broadcasts on BBC One tonight (Wednesday 29th) at 9:30pm, with Episode 2 on Thursday night at the same time.
Below is a clip from the show:
Share this page