Birds Of A Feather to return for Series 12
Birds Of A Feather to return for Series 12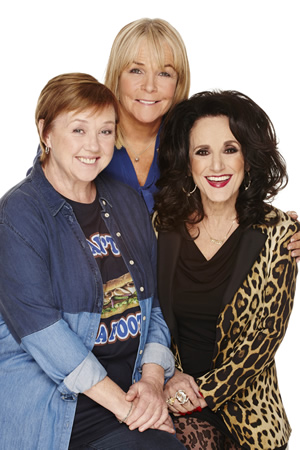 ITV has recommissioned comedy classic Birds Of A Feather.
The most recent run of the series, produced for ITV by Retort and QuirkyMedia Stuff attracted over 5 million viewers each week on consolidated figures.
Originally running for 9 series on BBC One between 1989 and 1998, the comedy was revived in 2014 by ITV, and returned again for an eleventh outing earlier this year.
Creators Laurence Marks and Maurice Gran say: "We're thrilled that a nation is still in love with Sharon, Tracey and Dorien and delighted that ITV loves them too and have asked us to write what will be the twelfth series of Birds Of A Feather. We can promise more feisty fun with the Essex girls."
The series focuses on sisters Tracey and Sharon, whose husbands were jailed back in 1989 for armed bank robbery, and their man-eating next-door neighbour, Dorien.
With their no-good husbands now long a thing of the past, the current ITV series see Tracey, Sharon and Dorien living together, alongside Tracey's sons, Garth and Travis.
ITV Comedy Commissioner Saskia Schuster says: "Birds Of A Feather has a large and loyal audience and we're really pleased to be bringing it back. A new series starts shooting later this year."
Jon Rolph, executive producer and managing director of production company Retort, added: "We're delighted the Birds will be back again on ITV for more adventures. It's a brilliant team and a privilege to be working on one of Britain's most enduring and best loved comedies."
The new series is expected to be broadcast early in 2016.
DVD box sets of Series 1 to 9 and Series 10 and 11 are now available to own.
Share this page