Bad Robots to return for Series 2
Bad Robots to return for Series 2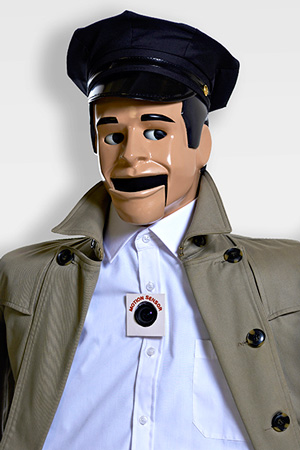 Prank show Bad Robots has been recommissioned by E4.
The hidden camera comedy series sees unsuspecting members of the public faced with a series of badly-behaved automated machines, interactive terminals, and other robotic contraptions supposedly there to help.
Written by producer-director team Ben Spiteri and Paul Routledge, the show is presented as machines "fighting back" against their mistreatment by humans.
Original 'Bad Robot' Tez One - voiced by Sir Michael Gambon - established TezCorp Industries to create more machines on a mission to "plague you intolerable bags of flesh and terrorise your pathetic lives".
The Objective Productions series warns: "Humans - prepare to get screwed with."
Badly-behaved machines in the series include a terribly inappropriate build-a-bear booth; a car park ticket machine that wants to do anything but dispense tickets; photo booths that warp and distort peoples' pictures; voice-activated tourist information terminals with poor hearing; and a driving theory test with a very odd set of questions.
Writer and producer Ben Spiteri told the British Comedy Guide today: "We are all ridiculously excited to be making a second series of Bad Robots. The public took to it in such a big way and not a day goes by when we don't hear about people thinking they are on the show, as a ticket machine spews out mangled tickets or their computer goes haywire.
"Now it's on us to up the stakes. Bigger and sillier. We couldn't believe what people fell for so last time, so now I want to see what we can get away with. New machines like the TezCorp English Language Test and the art gallery floor polisher are going to get a hell of a rise."
Those providing their vocal talents to voice the machines in Series 1 were Matthew Holness, John Hopkins and Nico Tatarowicz, with extra appearances including Terry Mynott, Tom Allen, Kelly-Anne Lyons, Rob Delaney and Dave Benson Phillips.
Channel 4 comedy commissioner Laura Riseam said today: "We are so pleased with the success of the first series and can't wait to unleash the troublemaking machines on the unknowing public once again."
Broadcasting during November and December 2014, the first series gained an average of 439,000 viewers over its six episodes, up 28% on the slot average. It also performed particularly well with E4's key demographic, with 56% of its audience being of 16-34 year-olds, taking a 5.8% share, 39% up from the slot average of 4%.
Pre-watershed, clean-language repeats of the programme, dubbed Bad(Ish) Robots, will also return.
Here is a clip from Series 1:
Further videos can be found in our Guide.
Share this page