Vicar Of Dibley to return for Red Nose Day
Vicar Of Dibley to return for Red Nose Day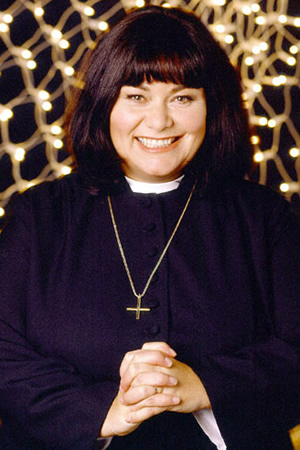 The Vicar Of Dibley will make a return for Red Nose Day on Friday 13th March.
A new special edition of the hit sitcom is currently being filmed for broadcast as part of the BBC's charity fundraising telethon.
The new episode will see Geraldine Grainger (Dawn French) hoping to be named Bishop of Dibley, following the recent historic decision by the Church of England to ordain female bishops for the first time.
The hit sitcom was first launched in 1994, shortly after the Church had given the go-ahead for the first ever female vicars.
Filming for the special has been taking place on location in central London, including at the historic Inner Temple.
A source told the Daily Mail: "Geraldine's character assumes she is a shoo-in to become the Bishop of Dibley but there are some other very unexpected names in the frame.
"Some big names have been cast as the rivals but to name them would give away the joke."
Geraldine and her parishoners were last seen in a 10-minute long 2013 Comic Relief special, in which they travelled to London to petition the church to permit women bishops. It had long been mooted by star Dawn French and writer Richard Curtis that the characters could make a comeback if and when the Church of England did give the go-ahead for women bishops.
The series had originally bowed out after more than a decade of highly-rated series and specials - which also saw it named the third best ever British sitcom - in 2007. The episode currently in production will be the first revival since the death of actor Roger Lloyd-Pack, who played hygienically-challenged farmer Owen Newitt, in January 2014.
Although further details and casting information have yet to be released, it is likely that the new special will also take the form of an extended sketch, rather than a full half-hour episode.
The BBC are expected to confirm further details in the coming weeks.
Red Nose Day 2015 takes place on Friday 13th March. For more information about the event and to donate, please visit RedNoseDay.com
Here is the 2013 special:
Share this page