Rowan Atkinson to star in Horrible Histories
Rowan Atkinson to star in Horrible Histories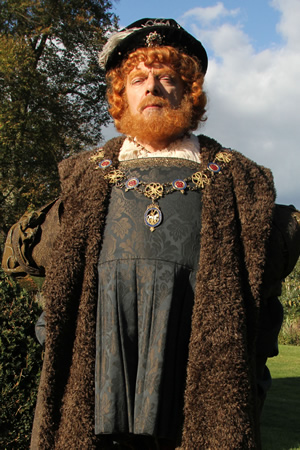 Rowan Atkinson is to appear in the new series of CBBC sketch show Horrible Histories, it has been revealed.
Talking about the return of the historically accurate childrens' comedy series, the show's consultant, Greg Jenner, told Radio 2 presenter Simon Mayo that the Blackadder and Mr Bean star would be making a guest appearance in the series.
Atkinson - perhaps best known as Edmund Blackadder - will guest star in Series 6 as Henry VIII (pictured), and will sing a song as part of the role.
Other guest stars are due to appear in the new series too. The BBC confirms: "An array of Britain's top comedy talent joins the team to take on the roles of history's biggest characters: Lorna Watson plays Boudicca and will sing about demolishing the Romans in Wreck 'em All. Ben Miller stars as King John and takes on the Barons at Runnymede in a Grievance Battle.
"Kevin Eldon as William The Conqueror will describe his military approach Norman Style. Rowan Atkinson sports fine ginger facial hair as Henry VIII. Tom Rosenthal makes a nervous and geeky King Alfred. Kathryn Drysdale woos the Romans as Cleopatra and there's an hilarious cameo from Sanjeev Bhaskar."
Talking about the guest stars, Jenner said: "It's a tremendously exciting roster of people coming in to come and play with us. We took a year off or so, then we came back and thought 'well, we need to up the game'."
He added: "It's great fun when you've such really talented comic actors - Rowan Atkinson in tights for the first time since Blackadder!"
The multi-award winning childrens' show had bowed out after a fifth series in 2013. However, it was revealed last summer that a sixth series was in development.
Series 6 will, however, feature a substantially different cast from the previous five. Many of the show's stars have since moved on to other projects, such as Sky1 fantasy series Yonderland (returning for a new series soon); and the upcoming Horrible Histories-inspired feature film about William Shakespeare, Bill.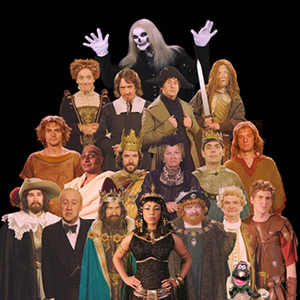 The new regular cast will be comprised of Tom Stourton (Siblings), Adam Riches (Detectorists), Naz Osmanoglu (WitTank), Jalaal Hartley (Twenty Twelve), Jess Ransom (Doc Martin), Natalie Walter (Babes In The Wood) and Louise Ford (Chickens).
However, the BBC has confirmed some of the old cast would return in guest roles. "Sarah Hadland will reprise her role as Queen Victoria, Simon Farnaby will be playing George III and Death who has now been promoted from Stupid Deaths to having his own Chatty Death show. Jim Howick will play both Churchill and Napoleon. Jessica Ransom will play Mary Queen of Scots and Lawry Lewin is back as Cromwell."
The BBC's Cheryl Taylor says: "Horrible Histories has a well-earned reputation as one of the most popular TV shows of a generation, delighting children and adults alike. CBBC was delighted to hear that a sixth series was on the cards and to combine the considerable talents of the some of the original cast with such a dazzling array of well-known and hilarious guest stars is the icing on a very large and delicious historical cake. We are all fidgeting with ill-concealed anticipation."
Richard Bradley, the Executive Producer for production company Lion Television, adds: "We are thrilled to have such a remarkable cast for the new series of Horrible Histories. We trust fans will enjoy the slightly new format - we think it opens up lots of interesting new history to explore and of course acres of new comedy potential."
Series 6 will be screened on CBBC later this year. In the meantime, a new special episode marking the 800th anniversary of King John signing Magna Carta, starring Ben Miller as the monarch, is expected to broadcast at the end of January.
Update: Horrible Histories Series 6 starts on CBBC on Monday 25th May 2015. Series Guide
Here is the trailer for Bill, the movie starring the original Horrible Histories cast, which is due for release in March:
This story was updated on the 12th May to include the picture of Rowan Atkinson in costume as Henry VIII.
Share this page