Comedy Central commissions I Live With Models series
Comedy Central commissions I Live With Models series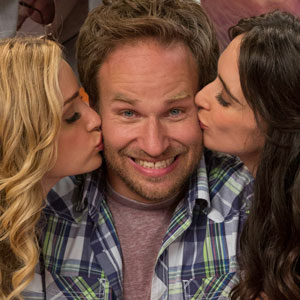 Lead by its UK arm, Comedy Central International has commissioned a brand new studio audience sitcom, I Live With Models.
Piloted in July, an 8-part series will go into production next month, filming on location and at Pinewood Studios.
Set on the fringes of the fashion industry in Miami, I Live With Models follows the everyday adventures of four naïve 20-somethings coming face to (flawless) face with the real world.
The flat-share comedy centres around Tommy, a chubby barista, whose perfect hands catapult him into the glamorous but ruthless world of modelling. He can take everything his new career throws at him but the hard part is dealing with his new roommates - a tough-talking catalogue model, a muscled lothario and a neurotic catwalk diva.
The series has been created and written by Jon Foster and James Lamont, who also penned The Harry Hill Movie and have contributed to programmes including The Armstrong & Miller Show.
Produced by Roughcut TV (Trollied, Cuckoo), the series stars David Hoffman (Bridesmaids, New Girl) as Tommy, with Brianne Howey (Twisted, Horrible Bosses 2), Rebecca Reid (New Girl, Children's Hospital) and Eric Aragon (Desperate Housewives) as his flatmates. Joseph May (Episodes) will also star.
The series commission follows that of Brotherhood, a comedy about a pair of adult brothers left to raise their younger sibling alone when their mother dies. Both are part of Comedy Central's attempts to develop long-running, home-grown comedy formats with the possibility of extending to American-length seasons (up to 24 episodes a year), and being shown around the world, emulating the popularity of US shows such as Friends, The Big Bang Theory and Two And A Half Men.
Both I Live With Models and Brotherhood will be broadcast by Comedy Central globally - although not in North America.
Lourdes Diaz, Vice President, Head of Global Production & Development, Comedy Central International, says: "I am delighted that we are about to start shooting I Live With Models and hope we will bring a little Florida sunshine to our UK audience at Pinewood each week. The show is Comedy Central International's second multi-camera sitcom to enter series production and continues our mission to produce more original content for our international network of comedy channels."
Ash Atalla, the Managing Director of Roughcut TV, commented: "It's not often we get the chance to combine two of the world's favourite things into one show - beautiful people and laughter. We hope I Live With Models will bring a sexy smile to viewers for years to come."
The series will be recorded at Pinewood Studios in South Buckinghamshire between Wednesday 3rd December and 28th January 2015. The series is expected to be broadcast later in 2015. To apply to be in the audience see our free tickets page
Share this page