Channel 4 retires the 10 O'Clock Live format
Channel 4 retires the 10 O'Clock Live format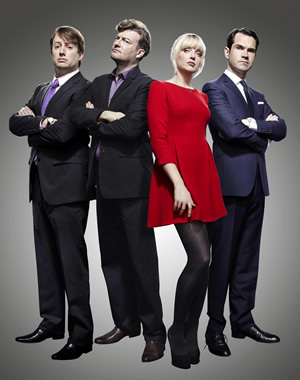 Channel 4 has confirmed that its topical comedy format 10 O'Clock Live has been retired.
The show, which starred Charlie Brooker, Jimmy Carr, David Mitchell and Lauren Laverne, was launched in 2011 and ran for three series.
It was based on the one-off 2010 General Election coverage special, Channel 4's Alternative Election Night, which was also hosted by the same team.
Series 1 saw the format faced with a rocky start, but it was streamlined and improved from the second series onwards. The programme was also moved from a Thursday night to a schedule slot on Wednesdays to stop it clashing with Question Time.
Last year's run, broadcast between May and June, attracted an average of a million viewers an episode.
It is thought 10 O'Clock Live was expensive to produce compared to other topical comedy formats.
Ed Havard from Channel 4, talking to BroadcastNow, confirmed the format has ended, however he added he was "absolutely committed" to commissioning more satirical programming on the network.
The broadcaster is now "actively looking" for shows that "can build on 10 O'Clock Live".
10 O'Clock Live launched in a blaze of publicity, including a large advertising campaign. Below is the trailer which was used to promote the show:
Share this page