Last Of The Summer Wine spin-off in development
Last Of The Summer Wine spin-off in development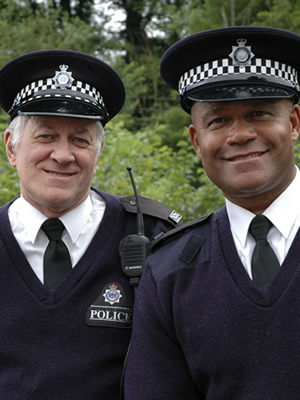 The policemen characters from Last Of The Summer Wine could be getting their own sitcom.
Alan J W Bell, the Producer and Director to helm the final years of the long-running sitcom, has been working on the pilot of a spin-off with actors Ken Kitson and Louis Emerick.
The characters were regulars in the Yorkshire-set sitcom from 1988's Series 10, with Kitson regularly appearing as PC Cooper, and Emerick portraying PC Walsh.
The actors recently returned to Holmfirth, where the sitcom was filmed, to record a pilot based around their hapless law enforcement characters.
It is hoped the pilot will attract a broadcaster to fund a series, with crowdfunding also being looked at as an option.
Terry Bartlam, who is working as an Associate Producer on the project, said: "When the BBC decided they didn't want to make any more episodes of Last Of The Summer Wine it was a double blow for the two actors.
"People were anxious that the series should have a proper ending, with perhaps a feature-length episode to bring it all together.
"There is also thinking that in Cooper and Walsh there was scope for a breakaway series and Alan came up to Holmfirth to make two short films to remind the viewers of how good Ken Kitson and Louis Emerick are as actors.
"Some of the original crew joined in and refused payment and they are all confident there is a lot of mileage in Cooper and Walsh."
Last Of The Summer Wine is the world's longest running sitcom. Launched in 1973, it ran for nearly 300 episodes before being axed by the BBC in 2010. Speaking to British Comedy Guide in a 2012 interview, Alan J W Bell said the show shouldn't have been cancelled as it still had millions of fans.
He explained he discovered the news via an impersonal message from the BBC: "I returned home and found an email which said that there would be no filming of the series the following year. At first I thought it was a joke, for I had discussed my strategy with the Head of Comedy, but it was true."
Since the show has finished, Ken Kitson and Louis Emerick have continued to work together, playing the characters in the Cooper & Walsh stage shows (video).
Below is a clip from Last Of The Summer Wine featuring the policemen justifying a nap:
Share this page