Alex Horne and Greg Davies star in new show Taskmaster
Alex Horne and Greg Davies star in new show Taskmaster
---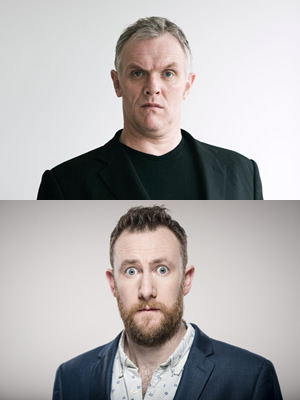 Channel Dave has commissioned a new comedy entertainment format called Taskmaster.
Devised by Alex Horne and starring Greg Davies and Horne, the show involves comedians undertaking various challenges.
The six hour-long episodes will see Cuckoo and Man Down star Greg Davies taking on the role of 'The Taskmaster'. He must set challenges for a group of well-known comedian to undertake, and then decide at the end of the show who did the best job.
Horne will act as his assistant. The producers explain: "Alex Horne will assist The Taskmaster as his right-hand-man, coaxing the comedians to show how comic, creative and seriously competitive they are. Rivalry will be encouraged, dodgy tactics rewarded and bribes will be accepted in what is set to be the most the most dogged, hard-fought and ridiculous comedy show on TV."
The Taskmaster was originally developed as a live show, which Horne performed at the Edinburgh Festival in 2010 and 2011. Those taking part in the Fringe shows included Tim FitzHigham (who drank a pint of red wine), Tom Basden (who wrote a tender love song) and Lloyd Langford (who 'smashed a bottle on his own head'). The winner in the first year was Mike Wozniak, "mainly because he managed to send Alex a 200 foot ice sculpture of an eagle on a horse through the post."
Commissioner Richard Watsham says of the new TV series: "Entertainment shows with this level of invention and ambition are extremely rare so it's great to have it on Dave. It absolutely demonstrates our commitment to taking risks where other broadcasters might not. The thought of Alex Horne's off beat comic genius brought to life with Greg Davies as the ultimate, authoritarian Taskmaster has me smiling already."
Steve North, the General Manager of Dave, adds: "Having seen Taskmaster live in Edinburgh back in 2011, it is fantastic to now bring the show to Dave viewers. It is a hilarious, full of energy and anarchic humour and is a great addition to the channel's line up of original shows, which I hope will continue to widen the viewers that Dave appeals to. I can't wait to see it on the channel."
Taskmaster will be produced by Avalon Television. Executive Producer Jon Thoday comments: "We are very excited to be producing this show for Dave. Alex's inventive and highly original format has already proved to be a huge cult hit live, and I'm delighted that Greg has come on board to be the Taskmaster."
Taskmaster is due to be broadcast in Spring 2015.
2015 Edit: The show will be recorded on 24th February 2015 in Clapham. Tickets
The below video features footage from the 2010 live show:
Share this page