BBC Three orders Siblings Series 2
BBC Three orders Siblings Series 2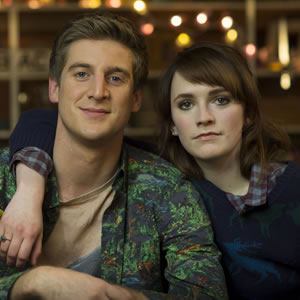 Siblings, the sitcom starring Charlotte Ritchie and Tom Stourton as a lazy and self-centred sister and brother, is to return for a second series.
Series 1 of the comedy, created by Keith Akushie, is currently being broadcast on Thursday nights alongside Cuckoo. Focusing on the "obnoxious, lazy, self-centred, underachieving, incompetent and occasionally depraved" Hannah and Dan, the show has proved to be a hit with audiences.
Executive Producer Simon Wilson says: "We've been delighted by how much audiences have enjoyed Dan and Hannah's horrendous and hilarious antics - as played so brilliantly by Tom and Charlotte. We're thrilled the BBC are giving us another chance to unleash the calamitous duo on a whole new set of victims."
BBC Comedy Commissioner Chris Sussman comments: "Siblings is horrible and brilliant at the same time. Each episode is like a mini-movie, with Dan and Hannah finding new and terrible ways to ruin other people's lives. I can't wait to see what mischief the writers cook up for series two."
The six-part second series will shoot in London early in 2015, and is planned to be broadcast on BBC Three later in the year.
Speaking in an interview ahead of the first series, Charlotte Ritchie said of the show: "I think what attracted me to it was probably that it's quite different to the parts I've played before in the sense that, Hannah was completely not self-aware, blunt, inappropriate and driven by one thought only, not having hundreds of thoughts in her head necessarily. I really like that, it's kind of an interesting part - and I thought the script was funny."
Tom Stourton, in his publicity interview, noted: "Some comedy sometimes feels quite light on the jokes when you watch it, more heavy on the drama. With Siblings, I really admired how the writer, Keith Akushie, just packed in as many jokes as possible and always went for the funniest option. Even if this meant me getting electrocuted by a dildo."
Series 1 of Siblings finishes tomorrow night (Thursday 11th September) at 10:30pm. Below is a preview clip in which Hannah meets someone from her old school at a funeral:
Share this page