Alan Davies: As Yet Untitled gets extended length second series
Alan Davies: As Yet Untitled gets extended length second series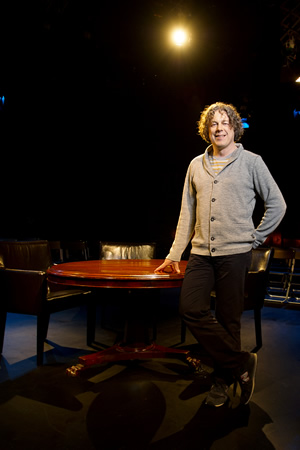 Dave has confirmed that comic chat show Alan Davies: As Yet Untitled will return for a second series.
The channel has doubled the number of episodes in the programme's next run, with Series 2 consisting of ten hour-long shows.
Alan Davies: As Yet Untitled launched on Dave in June, with each of five episodes broadcast nightly across one week. The format sees Alan Davies hosting an un-planned discussion with four other comedians, with no set agenda and no promotional plugs.
The channel explains: "As Yet Untitled arms Alan Davies with one fact about each of his four guests which encourages a plethora of comedy conversations, nostalgia and interesting insights into some of the biggest names in comedy, as well as up and coming comics who certainly hold their own round the table.
"The show has no scripts or rehearsals and the guests don't have a clue what they are going to be talking about. Each episode begins without a title, but by the end Alan and his guests will come up with an appropriate mantle which sums each episode up. Last series included titles such as Cupped By A Shammy Hand, The Bringer Of Spiders and Until I'm Married Or You Die with a stellar line up of guests including Bob Mortimer, Noel Fielding and Bill Bailey."
UKTV Commissioner Iain Coyle comments: "The simplicity of the Alan Davies: As Yet Untitled format allows the genius of Alan in this environment to shine. It's great to be back working with one of the most professional production teams in the industry and once again put together one of the funniest shows on telly."
Steve North, General Manager for Dave, adds: "We are thrilled to have Alan returning to Dave following the success of As Yet Untitled's first series. The relaxed and insightful nature of the show made it genuinely funny for the viewers and I am excited to see what guests will appear this time round."
Lucy Ansbro from production company Phil McIntyre Television says: "We are thrilled to be working with Alan, UKTV and Grand Scheme again on this fantastic show. We can't wait to get started on putting together more fascinating line ups of extraordinary talent."
The new episodes of Alan Davies: As Yet Untitled will be shown on Dave in early 2015. The episodes will once again be filmed in front of a live studio audience, with free tickets due to be released later this year.
Below is a video interview filmed ahead of the first series, in which Davies talks about making the programme:
Share this page