Jack Whitehall's Backchat moves to BBC Two
Jack Whitehall's Backchat moves to BBC Two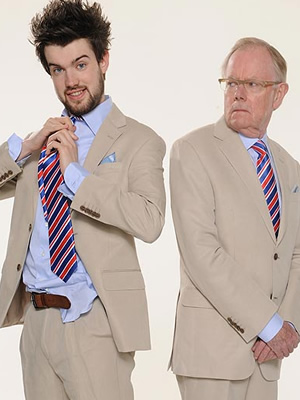 Backchat, starring Jack Whitehall and his father, Michael, is to return for a second series.
The second series will also see the comedy chat show promoted from BBC Three to BBC Two.
Following a successful run of the format at the 2011 Edinburgh Festival Fringe in the show Jack Whitehall and his father Michael - Back Chat, a first series of the comedy programme launched on BBC Three late in 2013.
Despite comprising only four episodes and one Christmas special - plus a compilation of highlights - the series was a popular and critical success, and returned for two specials, marking Father's Day and the football world cup, earlier this Summer.
The format sees Jack attempting to interview a series of guests whilst accompanied by his somewhat grumpy, posh father, who regularly embarrasses him with tales from his childhood or tales of his mother's sexuality.
The BBC simply say: "Expect more candid conversation, family feuds and must-see moments as an eclectic line-up of guests find themselves stuck between the funniest father and son double act around."
Michael Whitehall said of the news: "I'm delighted to be doing a new series of Backchat on a channel that I have actually heard of and indeed always been a huge admirer of since its launch in 1964."
Produced by Tiger Aspect, the new six-part series is expected to be recorded and broadcast on BBC Two this Autumn.
Here is a clip from the recent Father's Day special:
Share this page