New sitcom Fried gets a series on BBC Three
New sitcom Fried gets a series on BBC Three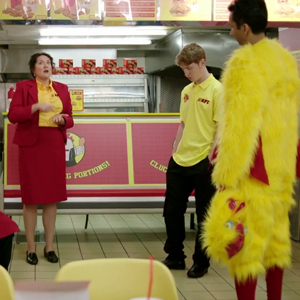 Fried, a sitcom set in a small fast food shop, has been given a six-part series by BBC Three.
A taster episode of the comedy, which is currently available on BBC iPlayer, was created as part of the Comedy Feeds pilots. It is due to be broadcast on BBC Three on Friday 5th September.
The full series, which will air next year, will comprise of six half-hour episodes.
Written by Jack Williams and Harry Williams, Fried follows the staff in a struggling branch of low-rent fast food chain Specially Fried Chicken.
The BBC explains: "There's Mary, the manager sent from head office who has grandiose plans for this fried chicken shop. Her job is openly coveted by bitter assistant manager Derek, who's been here 'since it were a Wimpy'.
"Then there's geeky teenager Joe, and the man who's decided they're best friends - foul-mouthed and relentlessly self-absorbed Ed. Every week the team has to deal with customers, with one another and with the indelible smell of oil."
The pilot episode stars Katy Wix as Mary, the manager; Will Melling as Joe; Mandeep Dhillon as the new recruit with the unfortunate Sikh name, Anal; Simon Greenall as old hand Derek; and Imran Yusuf as cheeky promotional man Ed.
Fried is produced by Two Brothers Pictures and Bwark. It is one of two Comedy Feeds commissions announced today, the other being Josh. BBC Three has also announced two more sitcoms: Top Coppers and Together.
Below is a clip from this pilot. The full episode can be seen on iPlayer
Share this page