BBC Three orders a full series of Josh
BBC Three orders a full series of Josh
---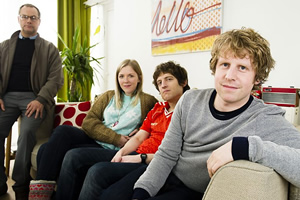 BBC Three has ordered a full series of Josh, the sitcom starring and co-written by Josh Widdicombe.
A 15 minute pilot episode is currently available on iPlayer as part of the BBC's Comedy Feeds pilot strand, and it will receive a TV broadcast on Friday 29th August. However, the BBC has already gone ahead and ordered a full six-part series off the strength of the taster episode.
Written by Widdicombe and fellow stand-up Tom Craine, the comedy follows the adventures of Josh as he shares a flat with Owen (Elis James) and Kate (Beattie Edmondson). The show also stars Jack Dee as the trio's landlord, Geoff, a man "who is a shoo-in for this year's Most Irritating Landlord award".
The BBC says: "This sitcom will focus on the small things in life. Josh is like the rest of us: easily embarrassed, full of polite indignation and mildly irritated by having the teabag and hot water given to him separately on a train... but only for Josh can that irritation escalate within 30 minutes to him accidentally scalding the driver and causing a three train pile-up."
The six 30 minute episodes will be broadcast next year. The show, which is being made in-house by the BBC, is directed by David Schneider and produced by Simon Mayhew-Archer.
It is one of two Comedy Feeds 2014 series commissions announced today, the other being chicken shop-set sitcom Fried. BBC Three has also announced new comedy series Top Coppers and Together.
In an interview with BCG conducted earlier this month, co-writer Tom Craine said of the good reaction to the iPlayer pilot: "We've had very nice feedback. People really seem to have enjoyed it. It's such a panic thing. You work on this thing and you put it out there and you don't know how it'll be received. It means an awful lot when people like it because it means it's been worth it - it's a long old process getting a sitcom together."
When asked about a full series, Craine added: "We're excited about the idea of doing more, should it go anywhere. I like the fact it's quite stripped down and it's very much just about the characters. We feel we know who they are, so it's a nice idea to put them in a situation and see how they react."
Below is a clip from the pilot episode of Josh. The full episode can be seen on iPlayer
Share this page