BBC reiterates Miranda Hart Generation Game plans
BBC reiterates Miranda Hart Generation Game plans
---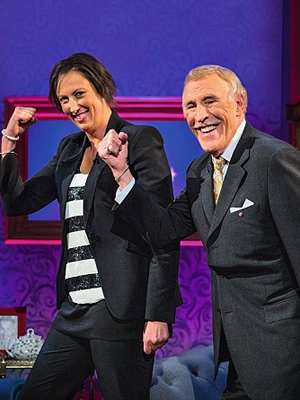 The BBC has reiterated that it is working with Miranda Hart to revive comedy game show The Generation Game.
The popular series has been off air since 2002, but the BBC has for some time been known to be exploring a return of the series, potentially to be hosted by Miranda Hart.
Launched in 1971 with Bruce Forsyth as host, The Generation Game was regularly on screen until 1982, and then revived for another 12 years between 1990 and 2002.
The Guardian reported on Sunday that BBC One controller Charlotte Moore had told them: "It will be a modern reinvention of The Generation Game. Miranda will bring a very different flavour to it. Her wit and spirit behind it will naturally move it into the modern era. Miranda is brilliant at engaging with people, she loves that interaction. She'll be brilliant."
However, Hart tweeted on Sunday night: "Apparently it's 100 per cent cert I am doing Gen Game. First I've heard of it. Mulling some ideas about it might be more accurate."
She later added: "It's nice to see your thoughts re Gen Game but to reiterate let's 'shut that door' on it for now. It's one of a few private brainstorms."
In an effort to clarify the confusion caused by the original Guardian reports, Moore has now issued a statement saying: "We are working closely with Miranda on how a modern day Generation Game would work, whilst she continues to be committed to her work as an exceptional actress. It's an exciting process."
Bruce Forsyth is perhaps the best remembered host of the show - with catchphrases including "Didn't they do well?" and "Nice to see you, to see you, nice!" - however the format was also hosted for a period by Larry Grayson, known for catchphrase "Shut that door!" (1978 to 1981), and Jim Davidson, who took over from Forsyth in 1994.
The game show's format involves family members of different ages competing in a series of challenges. The final round famously involved a conveyor belt of potential prizes, most of which were not of very high value - including a large cuddly toy.
Referring to the revival plans, Moore said in the past week: "I promise you it won't be predictable. It will feel absolutely rooted in the present day. Television is always reinventing things, every show has a great-grandparent that existed once. We all swim in the same pond."
The Generation Game was adapted from a Dutch series called Een van de acht ("One of the eight") by celebrated BBC executive Sir Bill Cotton, then the corporation's Head of Light Entertainment.
The BBC has suffered a number of high-profile Saturday night entertainment failures over the previous twelve months, with new formats including That Puppet Game Show and I Love My Country failing to attract audiences. Executives will be hoping that reviving The Generation Game will bring them another family-friendly hit to sit alongside Strictly Come Dancing.
Hart, who rose to fame via her sitcom Miranda and is now established as a star of Call The Midwife, interviewed Forsyth for a one-off programme last year. She said at the time: "Bruce is too modest to say this but I am going to say it for him. During the 1970s The Generation Game was getting over 20  million viewers every week and my family were among them. I loved it. It is one of the greatest game shows ever."
Miranda Hart previously took part in a Generation Game special, hosted by Vernon Kay, for Comic Relief 2012. As part of 24 Hour Panel People, Hart appeared with her "on-screen sitcom mum" Patricia Hodge, alongside David Walliams and his mother. In the below clip from this special, the contestants are taught how to make a clay pot:
Below is the trailer that was used to promote When Miranda Met Bruce:
Story updated at 11:30pm on 17th August and 4pm on 18th August.
Share this page