Rhod Gilbert is new Never Mind The Buzzcocks host
Rhod Gilbert is new Never Mind The Buzzcocks host
---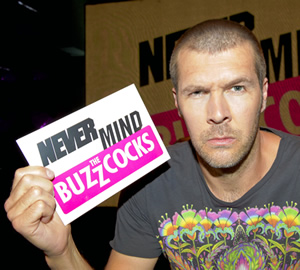 The BBC has announced that Rhod Gilbert will be the new permanent host of Never Mind The Buzzcocks.
The stand-up comedian will take charge on the next series of the music-based panel show, with Phill Jupitus and Noel Fielding once again acting as team captains.
The BBC notes: "A sell-out sensation at the Edinburgh Festival every year from 2005-2012, Rhod is a hugely successful stand-up comedian - his debut live DVD, released in 2009, was that year's fastest selling debut stand-up DVD. Rhod's wealth of music and comedy knowledge and his experience of guest hosting on Buzzcocks will also stand him in good stead with the powerhouse panel."
Rhod Gilbert himself says: "After my first Buzzcocks in 2009, I was told I was in with a shout to take over as regular host, and now, just five years later, I got the call. It has all happened so fast. Never Mind The Buzzcocks is one of those rare shows that feels like it belongs on our screens.
"It's an institution, in a good way. It's a great honour to be asked to take the reins full time and to hang out with Noel and Phill, and I'm equally excited and nervous about adding my name to those who have hosted it in the past."
Gilbert will become the show's third permanent host. Mark Lamarr helmed the first seventeen series, whilst Simon Amstell hosted Series 19-22. The show has since been running with guest hosts.
The next series - Series 28 - will be made up of 13 episodes.
The BBC's Mark Linsey says: "Rhod is the perfect host for Buzzcocks. He has great knowledge of music and fantastic comedy talent that will brilliantly complement Noel and Phill."
Leon Wilson from production company Talkback comments: "It's a great thrill to welcome Rhod to Britain's funniest music quiz. As host, he'll be steering the good ship Buzzcocks through the choppy waters of our guest panellists, hilariously aided and abetted by our brilliant regular team captains and music aficionados Noel and Phill."
The new series of Never Mind The Buzzcocks will be on BBC Two in the autumn.
Rhod Gilbert is currently filming a new series of his hit BBC Wales show, Rhod Gilbert's Work Experience, in which he tries out other careers. This week he is filming with the RAF in Angelsea as he learns how to fly a fighter jet.
Rhod Gilbert has guest hosted the music quiz twice in the past - once in Series 23 and once in Series 25. Here's a video of him hosting the show last time:
Share this page