Horrible Histories Series 6 in planning
Horrible Histories Series 6 in planning
---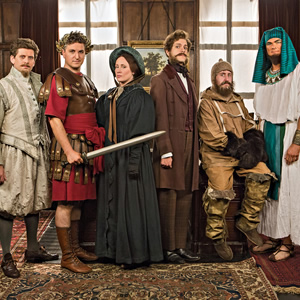 Horrible Histories may return to CBBC for a sixth series, it has been revealed.
The multi-award winning sketch show's fifth series, broadcast in late Spring and early Summer 2013, was announced as its last full run. However, CBBC boss Cheryl Taylor said today that talks for a return were "advanced".
Historically accurate, the TV series is based on author Terry Deary's hugely popular series of factual childrens' books of the same name, and has been both a critical and ratings hit for CBBC.
Speaking at the Children's Media Conference in Sheffield, trade magazine Broadcast report that Cheryl Taylor said: "It seemed too good an opportunity to say 'that's it'. It's a brand that the audience adores and possibly more than any other show on the channel, it manages to sit in two different genres: it can absolutely be enjoyed as a comedy but everything is factually correct."
Starring an ensemble of comic actor/writers, the series has run since 2009 and also enjoyed a BBC One series in which highlights from the first two series were repackaged and presented by Stephen Fry, in a primetime Sunday evening slot.
The stars of the show - Mathew Baynton, Simon Farnaby, Martha Howe-Douglas, Jim Howick, Laurence Rickard and Ben Willbond - are also responsible for the family-friendly Sky1 comedy-fantasy series Yonderland, which was recommissioned for a second series this week.
The group also recently finished filming Bill, a feature-length film in the same comedy style as the Horrible Histories TV series, focusing on William Shakespeare. It is due for release in UK cinemas on 20th February 2015.
Each series of the sketch show to date has featured a number of cameo guest appearances, including from the likes of Al Murray, The League Of Gentlemen, Chris Addison and David Baddiel, and Taylor is also said to have hinted today that additions to the cast could be made if a sixth series does indeed go ahead.
New sketches for a number of one-off specials were filmed alongside Series 4, including for one episode focusing on World War I, which is expected to broadcast in the next few months. The special episodes will otherwise largely comprise of themed highlights from previous programmes.
If commissioned, a new sixth series would be unlikely to be on air before the latter half of 2015.
Update: Mathew Baynton tweeted. "Many people asking so, to be clear, we are not returning as a team for this rumoured sixth series of Horrible Histories. As far as I know, it is a different team and format. So we're passing the baton to a new ensemble and we wish them the very best."
The show became particularly well-known for its comic songs, of which the following rousing finale closed what was, until now, understood to have been the final episode proper:
Share this page