Hank Zipzer gets a second series on CBBC
Hank Zipzer gets a second series on CBBC
---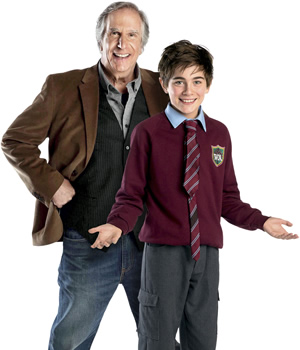 CBBC has confirmed it has ordered a second series of Hank Zipzer.
The comedy drama, which follows the adventures of a young boy who is growing up with dyslexia, was inspired by the book series co-written by Happy Days actor Henry Winkler.
The BBC explains that Hank, played by Nick James in the TV series, is "a boy whose glass is half full, but he just spills it everywhere".
They say: "His brain works differently to those around him, and he has a great imagination, but doesn't always see eye-to-eye with his parents and teachers. But, despite the daily challenges he encounters, Hank always manages to stay positive - and focused on his next masterplan... tomorrow is another day!"
The fast-paced comedy sees The Fonz star play his own real-life music teacher, Mr Rock, the only teacher who seems to understand Hank, and a valuable ally in the almost daily battles the student encounters with the fierce and unforgiving Ms Adolf (played by Felicity Montagu).
The thirteen-part first series, which aired between January and April this year on the childrens' channel, was well received. Reviews called the show "charming", "funny", "imaginative" and "great fun, cleverly constructed and eminently likeable".
Series 2 will comprise of 13 more episodes. It will be filmed in Halifax, Yorkshire, later this year, with all the main cast expected to return.
Cheryl Taylor, the Controller of CBBC, says: "How fabulous for CBBC that the universally loved Henry Winkler has agreed to return as Mr Rock. He has won over a new generation of fans and our young audience will be thrilled to enjoy more adventures with the irrepressible Hank Zipzer."
The BBC say that Series 2 will broadcast during late 2015 and early 2016.
The below clip goes behind-the-scenes on the first series of Hank Zipzer and sees the cast introduce the show:
Share this page