Jason Manford to host 'A Question of Sport: Super Saturday'
Jason Manford to host 'A Question of Sport: Super Saturday'
---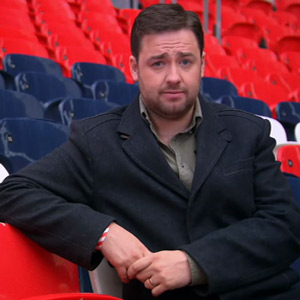 Jason Manford is to host a new spin-off from the long-running BBC quiz show Question Of Sport.
A Question Of Sport: Super Saturday will involve physical challenges. The BBC explains: "Super Saturday is a brand new BBC One entertainment show hosted by popular comedian Jason Manford. A Question of Sport team captains, Matt Dawson and Phil Tufnell, will be joined by celebrity guests to play a series of physical games and challenges all with a sporting twist."
A Question Of Sport has been running on the BBC since 1968. This new twist on the format would appear to bring it closer in style to the likes of Total Wipeout and A League Of Their Own.
The BBC says: "Super Saturday is packed full of fun, surprises, stunts and must-see challenges. A Question of Sport regulars Matt Dawson and Phil Tufnell will be joined by celebrity guests as they go head to head to see who will be crowned Super Saturday supremo.

Jason Manford comments: "I am made up to be hosting this brilliant BBC One Saturday night show. I have always been a massive fan and it's a real honour! Families will be able join in at home with the rounds they know and love. And they will be in for a treat, with bigger and better challenges with the country's favourite quiz captains Matt Dawson and Phil Tufnell. With the World Cup looming this summer, I'm hoping the UK will be hit by sporting mania and as football is one of my obsessions I'm hoping to see some legendary footballing names joining us too."
The BBC is yet to release full details about the challenges, but it is known that one segment will be titled 'Kids versus Captains', with Tufnell and Dawson taking on children at different sports, one of which will be a golf chipping and putting challenge.
Another segment involving kayakers has already been completed at Zip World in Snowdonia.
Jason Manford will present the studio-based segments of the show at the Media City studios in Salford on the 5th and 6th June, with five episodes scheduled to be recorded across the two days.
The episodes will be shown over the summer.
Series Producer Gareth Edwards says: "Building on the popularity of the weekly quiz show, this is a completely new format that will be a more of a test of the contestant's physical attributes and their nerve rather than their sporting knowledge. It's all set to be a lot of fun!"
Jason Manford's first presenting job was on Channel 4's 2008 topical show Tonightly. He has since fronted formats including The One Show, Comedy Rocks With Jason Manford and A Funny Old Year.
With his brother, he has recently been concentrating on setting up Manford's Comedy Club, a chain of stand-up comedy venues which focus on quality acts at affordable prices. The comedian has explained the plan as follows: "I'm going to carefully select some of my favourite comedians from the circuit and send them to a town near you. Simple!"
Manford has recently been in the press for helping boost the fundraising efforts of Stephen Sutton, a teenager with terminal cancer. The 19 year-old has made over £3m for The Teenage Cancer Trust now, however his family revealed on Monday evening that his health has now "deteriorated". Manford has posted on his Twitter account: "Thinking of Stephen Sutton and his family right now. Lots of love and positive thoughts."
---
Afternoon Update: It has been announced Stephen Sutton has died peacefully in his sleep. Story
Manford tweeted: "sleep well friend. xxx"
Other comedians have also posted tributes. Ricky Gervais posted: "RIP Stephen Sutton. A true hero & inspiration to us all. #stephensstory"; Sarah Millican wrote: "So sad to hear about Stephen Sutton. What a wonderful and inspiring man. RIP." and John Bishop added: "It's amazing what an individual can achieve regardless of what is put in front of them. @_StephensStory has been an inspiration to many. RIP"
---
This story was updated on 20th May 2014 to include the various quotes from those involved in the Super Saturday format.
Share this page