Johnny Vegas to return to Benidorm as ITV confirms Series 7
Johnny Vegas to return to Benidorm as ITV confirms Series 7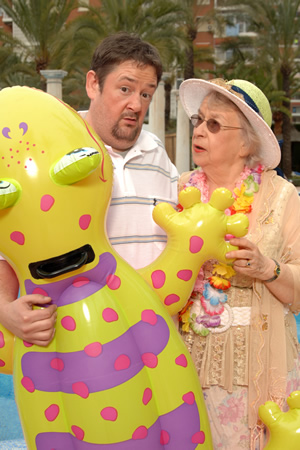 ITV has confirmed it has ordered a seventh series of its holiday-based sitcom Benidorm.
The new series, which is set to go into production this month, will see the return of three former cast members. Notably Johnny Vegas, who starred in the first three series of the show, will return as Lancashire pub quiz champion Geoff Maltby, aka The Oracle.
Geoff was last seen sailing off into the sunset with Chantelle Garvey, but there is no news yet on whether he is still dating her. Also joining Vegas back on set will be Elsie Kelly, who plays his mother Noreen and was last seen in Series 5; and Crissy Rock, who played surly hotel worker Janey York in the first five series of the show.
ITV says: "Many of your favourite holidaymakers will be appearing throughout the new series, with the ever-resourceful Solana staff including Joyce Temple Savage (Sherrie Hewson), Les/Lesley (Tim Healy) and Mateo (Jake Canuso) back to ensure everyone's holiday goes to plan."
The show's creator Derren Litten is writing all the scripts for the new run, and the plan is to once again include various guest stars. Storylines and details on the planned cameos will be announced nearer transmission.
News that the show has been given another series has been expected as Benidorm continues to perform strongly for ITV. The sixth series, which recently completed its run, averaged an impressive 6.8 million viewers, with the opening episode scoring ratings of 7.9 million. Benidorm's figures have been rising, with the 2014 broadcasts up 2.8 million viewers and 7 share points on 2013.
ITV commissioner Elaine Bedell says: "After another successful run on screen we're thrilled that a new series is about to start shooting on location in Spain. We're equally pleased that some familiar faces from the Solana's past will be making a welcome return to the sunshine."
Broadcast dates have not yet been set for the next series of Benidorm, however it is expected to follow the pattern of previous series by starting in the January next year.
ITV4 is currently repeating the show, with the first series being re-shown on Tuesday nights.
Update: The Garvey family will leave during Series 7. Siobhan Finneran, Steve Pemberton, Sheila Reid and Oliver Stokes - the actors who play Janice, Mick, Madge and Michael - will be written out of the show. Writer Derren Litten posted on Twitter: "Yes, it's true, The Garveys will be leaving during series VII. But as we all know, in Benidorm, it's always adios and never goodbye."
Share this page