BBC Three orders two more series of Sweat The Small Stuff
BBC Three orders two more series of Sweat The Small Stuff
---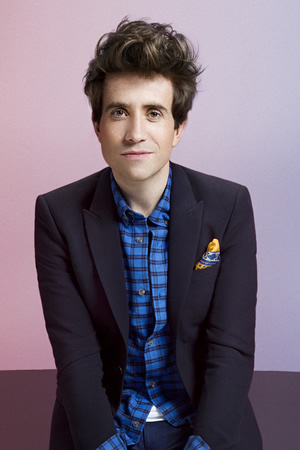 BBC Three has ordered another 18 episodes of Sweat The Small Stuff.
The panel show focuses on celebrity culture and "fickle obsessions", and is hosted by Radio 1 DJ Nick Grimshaw with team captains Rochelle Humes and Melvin Odoom.
The format, which launched in April 2013, has so far run for two series. Trade magazine Broadcast reports that the newly ordered episodes for 2014 will be split across two further series, running to 9 episodes each.
BBC Three controller Zai Bennett said: "Sweat The Small Stuff with Grimmy is a potent combination for BBC Three, so I'm delighted it's back for two more series. It's hilarious, quick witted and smart and is one of the only panel shows that riffs off of the great British public's niggles."
This panel show is the first to be recommissioned since BBC boss Danny Cohen publicly announced it was no longer acceptable for BBC comedy shows to have all-male line-ups. Sweat The Small Stuff is currently the only BBC panel show to feature a female team captain.
This new series news follows last week's announcement from the BBC that it intends to turn BBC Three into an online only channel in 2015. However, both series will be shown on television before the channel is shut.
On Thursday, Director of Television and former BBC Three boss Danny Cohen provided further details of the broadcaster's plans for the station. The corporation is stressing that the channel is not closed, and when it does go online-only they will still be looking to commission shows, which will later be broadcast on BBC One or BBC Two at 10:35pm. He said: "We are running BBC Three as a television channel for the next 18 months. We've got slots available and we're hungry for new ideas in all the genres, so there's a lot of work to be done."
BBC Three currently spends £14m on comedy, but it has not yet been decided how much of the channel's proposed reduced budget of £30m in 2015 will go to comedy production.
The next series of Sweat The Small Stuff is expected to begin filming later this season. A page to register interest in being in the studio audience is already available at Applause Store
Below is one of the trailers that was used to promote the first series of Sweat The Small Stuff:
Share this page