David Beckham talks about the new Only Fools And Horses special
David Beckham talks about the new Only Fools And Horses special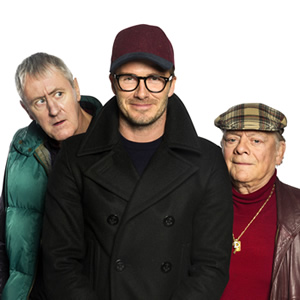 David Beckham has spoken about starring alongside David Jason and Nicholas Lyndhurst in the new Only Fools And Horses special for Sport Relief.
Speaking to The Radio Times, the ex-England footballer and internationally famous fashion icon revealed the role filled him with anxiety: "The thought of being on set with Nicholas and David was obviously very nerve-racking. I woke up that morning with my script on my chest. I've never done anything like this before, especially with two people I'm really in awe of and have been for many years. It wasn't just about learning the script, it was about delivering it; saying the right things at the right time."
Beckham, who has taken part in several charity sketches in the past - including appearing in a bath with James Corden in 2012, added that he can now "die a happy man" having completed the two day shoot at Wimbledon Studios. He told the magazine: "I'm a huge fan of the show. I have been for many years, as far back as I can remember. Being from the East End of London, it's what I was brought up on. I think that what it's really about is making people laugh, making people smile and raising money for important charities that are doing a lot of incredible work."
Only Fools And Horses has been voted as Britain's best sitcom in a number of polls. The last time the lead characters of Del and Rodney were seen on screen together was in the show's final special Sleepless In Peckham, which premiered on Christmas Day 2003 to 16.4 million viewers. The new sketch will see Beckham join Del Boy and Rodney in a greasy spoon café in Peckham. The short special is reportedly based around market trader Del's 65th birthday, although this has not been verified by the BBC.
The script was written by Jim Sullivan and Dan Sullivan, the sons of creator John Sullivan. The brothers used some of their late father's notes to ensure the dialogue was right for the new script.
Jim Sullivan explained to the listings magazine how the new project came about: "Since dad passed away the question of whether we'd be interested in writing any new material for Only Fools has been raised a few times, and we have always said no, our intention being to protect the work, not to attempt adding to it.
"Beckham got in touch through Sport Relief saying he is a big fan of Only Fools And Horses and that he was wondering if there was a possibility of doing something together for the charity's 2014 campaign. We were surprised and flattered by this, but a little hesitant to commit at first. However, with Sport Relief being such a worthy cause, and with the opportunity to help raise a lot of money, things were different this time, and we knew that dad would approve.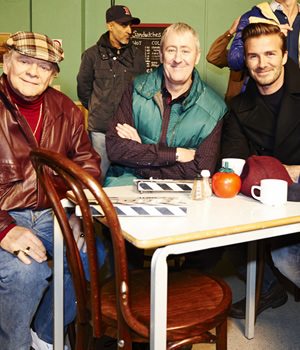 "It was important that the characters felt as true as possible. The show, its characters and every episode came from dad's mind, so if there was any way of getting his thoughts and voice into the script then we were going to do it." He added: "As soon as the camera started rolling, David and Nick slipped back into character and it was as though Del and Rodney had never been away."
Speaking about Beckham's involvement, Jim reveals: "When he first read the script he was a bit surprised to have been given so much dialogue and was nervous, understandably, about having to act alongside David Jason and Nicholas Lyndhurst, but he had no reason to be because his acting and delivery were very good. It was lovely to meet him and hear him talk about his favourite episodes and scenes and how his son, Brooklyn, is now also a fan."
It was also confirmed in the magazine that the new sketch was supposed to see Roger Lloyd Pack return as Trigger. However the actor, who died in January, shortly after filming took place, was too ill to make it to the set. Jim explained: "We were all shocked and saddened at the news of Roger Lloyd Pack's death. We had originally written Trigger into the sketch and Roger was supportive of the whole thing. We had heard that he had been unwell, but had no idea how serious it was. It wasn't until shortly before filming that we heard he was too poorly to perform, such was his eagerness to be involved - a true testament to his character."
Fans have been speculating whether the emergence of this new sketch and David Jason also reprising his role in Still Open All Hours will lead to more full episodes of Only Fools And Horses, however Sullivan says: "We very much appreciate the passionate and loyal fan base that the show has, and in a perfect world there would be more episodes, but there was only ever one writer of Only Fools And Horses, and without him, there can be no more."
The new sketch will be shown on BBC One as part of Sport Relief night on Friday 21st March 2014.
Comic Relief chief executive Kevin Cahill says: "Only Fools And Horses is one of the greatest sitcoms of all time. It's incredible that those involved with the show since the very beginning have come together for this Sport Relief special and we're especially touched that Jim and Dan Sullivan wrote the sketch together using some of their dad John's old notes.
"To be able to record a new Only Fools And Horses sketch is in itself very special but for David Beckham, who is a huge fan of the show, to be part of this is truly brilliant. We would like to thank everyone involved for helping to make this happen."
Below are some pictures from the sketch: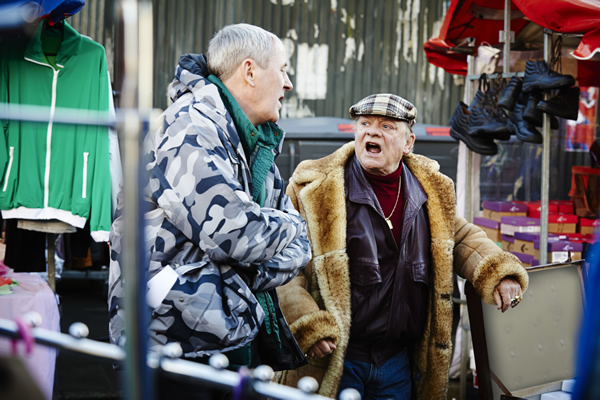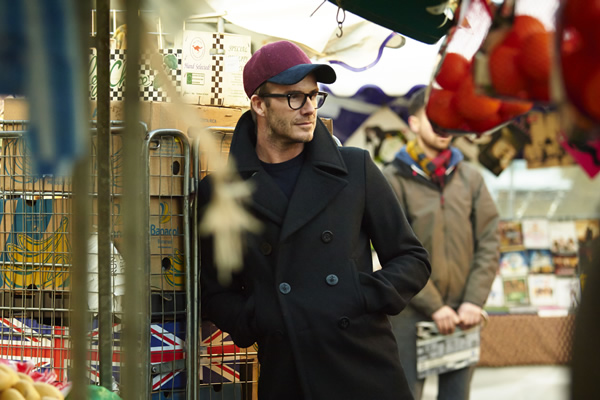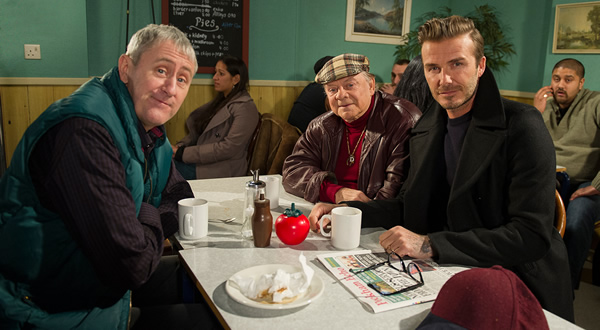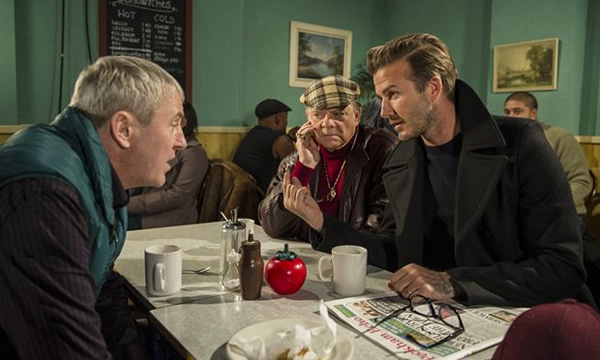 And here is a brief trailer:
Share this page