Birds Of A Feather to return for eleventh series
Birds Of A Feather to return for eleventh series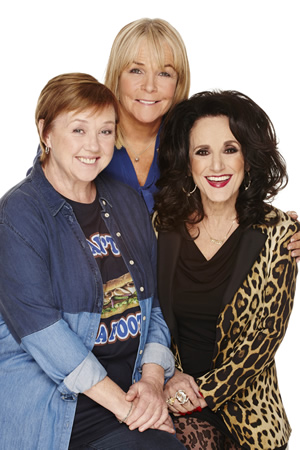 ITV has commissioned an eleventh series of hit comedy Birds Of A Feather.
Originally a BBC sitcom, the programme ran for nine high-rating series throughout the 1990s, when it clocked up more than 100 episodes.
A revival of the comedy, produced for ITV by Retort and QuirkyMedia Stuff, has been attracting audiences of up to 9.5 million since it started in January, making it ITV's most successful comedy launch in over a decade. The series is so far averaging 8 million viewers based on consolidated overnight ratings.
Starring original cast members Pauline Quirke, Linda Robson and Lesley Joseph, the revival series - the 10th in the show's history - has just finished airing. It caught up with original Essex girls Sharon and Tracey Stubbs, and their friend Dorien Green, who has reinvented herself as racy novelist Foxy Cohen.
The ITV revival followed a highly successful touring stage production based on the series, which travelled the UK during 2012 and 2013, performing to sell-out audiences and great popular acclaim, more than 10 years since the previously final television episode.
Following the success of the tour, creators Laurence Marks and Maurice Gran proposed a new series to the BBC. However, the corporation turned the working class sitcom down thus leaving ITV the opportunity to step in.
Original writers Marks and Gran with Gary Lawson and John Phelps will once again write for the eight-part Series 11, to be filmed later this year.
Maurice Gran says: "We're delighted Birds Of A Feather was such a success on ITV and really pleased to be asked to write another series. We hope the further adventures of Sharon, Tracey and Dorien will continue to thrill audiences young and old."
ITV's Director of Comedy and Entertainment, Elaine Bedell, adds: "We're very pleased that the brilliant chemistry between these three great actresses once again attracted the large and loyal audience that Birds Of A Feather deserves. The writers and producers have done a fantastic job in making the show feel funny, fresh and relevant."
Retort Managing Director Jon Rolph comments: "It's been thrilling to see how the audience has so warmly embraced the return of Birds Of A Feather, a credit to the brilliant writing and production teams and of course Pauline, Linda and Lesley."
QuirkyMedia Stuff's Steve Sheen added: "After successfully touring the stage show for two years we knew Birds still had appeal but think we were all excited how many viewers let the original Essex girls into their home for some up to date old fashioned fun!"
Birds Of A Feather Series 11 is expected to premiere on ITV early in 2015.
Series 10 is now available to order on DVD
Here is the trailer used to promote Series 10:
Share this page