BBC Three orders Series 2 of new sitcom Uncle
BBC Three orders Series 2 of new sitcom Uncle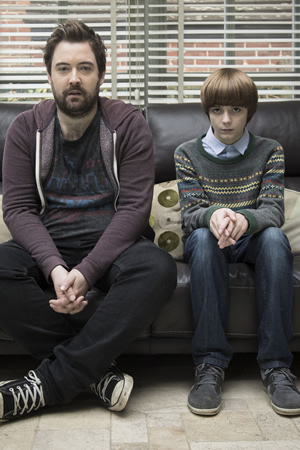 BBC Three has announced a second series of Uncle.
The comedy series, written and directed by Oliver Refson and starring Nick Helm, has been swiftly recommissioned after favourable feedback from viewers, positive press reviews and good ratings.
The sitcom follows the misadventures of Andy (Helm), a dissolute, out-of work musician who forges an unlikely alliance with his 12-year-old nephew Errol (Elliot Speller-Gillott) after being morally blackmailed into looking after him by his chaotic sister, Sam (Daisy Haggard). Not a natural with either kids or responsibility, Andy tries to keep his new charge out of trouble whilst often ending up knee-deep in it himself.
The first series, which finished its run tonight with a moving episode in which Andy became involved in the custody battle over Errol, has built up an audience of 2.6 million viewers (including iPlayer views) according to the corporation.
Nick Helm says: "I am gobsmacked that I have finally been involved in something that people like enough to warrant the need for more of it. I am looking forward to working with all the cast and crew again as making the first series was genuinely one of the most fun experiences I've ever had whilst still legitimately being able to call it work."
BBC Comedy Commissioner Shane Allen adds: "Oli's often edgy yet warm-hearted comedy, along with Nick and Elliot's unique chemistry, have proved an instant hit with the audience and critics alike. We're thrilled to have this wayward relative in the BBC Three family."
Uncle started out as a pilot on Channel 4 before being commissioned for a full series by the BBC. Henry Normal, from producers Baby Cow Productions, commented today: "You have to give respect to the BBC for taking a leap of faith on this show. It's a brave and different commission for BBC Three comedy. Together we have an exceptional team in front and behind camera. I love this show. It's a comedy with heart and bite and truth."
The new series is expected to go into production later this year for broadcast in 2015.
Nick Helm, who recently won the Breakthrough category at the South Bank Awards, has a busy 12 months ahead of him. As well as starring in the second series of Uncle, he is also filming a studio-based comedy series for BBC Three called Nick Helm's Heavy Entertainment and is writing a sitcom pilot for Channel 4 called White Thunder.
Below is one of the trailers used to promote the sitcom:
Uncle notably has musical interludes. Below is Gwen, the song in which Andy explains his love for his ex-girlfriend:
And this is the full music video for No Survivors:
Behind the scenes on the 'No Survivors' shoot
Share this page