Red Dwarf XI currently being written
Red Dwarf XI currently being written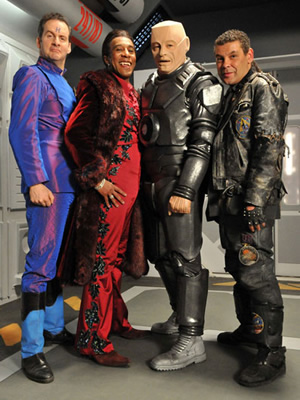 A new series of Red Dwarf is now being written.
Danny John-Jules, who plays the role of Cat in the long-running sci-fi sitcom, confirmed to the website Digital Spy that writer Doug Naylor was now working on scripts.
He said: "Doug Naylor is writing as we speak. He told me off for ringing him up the other day and asking about it. He said I was interfering with his writing."
The actor may now find himself in trouble for making the announcement, as he also revealed to the website that the cast are encouraged not to discuss developments. "It happens all the time with Red Dwarf. We say something and we get Doug Naylor on the phone saying, 'What the hell did you say that for?' So you can understand why we're quite shy in talking about these things."
Red Dwarf, which stars Chris Barrie, Craig Charles, Danny John-Jules and Robert Llewellyn as four characters trapped aboard an abandoned space ship, launched on BBC Two in 1988. The comedy was revived by Dave in 2009, initially as a three-part single-camera series, but a full length studio-based series followed in 2012. The series brought record ratings to the digital channel, so it does not come as a surprise that another series is on the way.
Reports that Red Dwarf XI is being made have been circulating since the tenth series aired on Dave in 2012. As noted by British Comedy Guide in October 2013, Llewellyn, who has played the Mechanoid Kryten since the sitcom's third series, wrote on his blog: "We are officially making another series but we don't know when. UKTV, the company behind Dave, who broadcast Red Dwarf X, want another series and we'd love to make one", adding "As far as the main cast are concerned, Chris, Danny, Craig and myself are all very committed to making another series." This post was subsequently deleted after Naylor took to Twitter to play down the news.
It should be noted that UKTV, the network behind the channel, has still yet to officially announce the commission.
Below is the trailer used to promote the 2012 series:
Share this page