BBC working on TV pilot for Flat News
BBC working on TV pilot for Flat News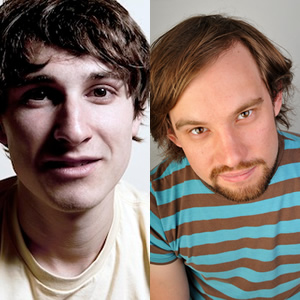 The BBC is filming a pilot episode of Flat News, a comedy format starring Tom Rosenthal and Naz Osmanoglu.
The show sees the two stand-up comedians presenting a fast-paced news programme from their flat. However, rather than concentrating on the important national news agenda, Flat News mainly focuses on the domestic issues of the two flatmates and their petty disputes. Much of the humour is presented via the medium of cutaway sketch vignettes.
Flat News is a format that has been in development for a while. The show started life in 2012 as Flat News With Tom & Naz, a short four-part series for BBC Comedy Extra, the now defunct video-based sketch portal on the corporation's comedy website.
Tom Rosenthal and Naz Osmanoglu are flatmates in real life, residing in Islington, north London. However, unlike the online sketches, the TV pilot is being filmed in a fully equipped TV studio made to look like a flat.
The two stars, as well as being stand-up comedians, are also actors. Osmanoglu, who is part of sketch group WitTank, is currently starring in Live At The Electric, whilst Rosenthal is perhaps best known for playing Jonny in Channel 4's Friday Night Dinner and Marcus in ITV2's Plebs. Both of these sitcoms are due to return for new series later this year.
The Flat News pilot, which is in production now, is said to be an early trial and thus is unlikely to be seen on television. It is not publicly known which channel the format is intended for, however BBC Three is thought to be the most likely home for the show.
News as to whether Flat News will become a BBC series will be announced at a later date.
The four short online episodes of Flat News are still available to view online. Below is the first episode, published in January 2012.
In the video below, recorded at The British Comedy Awards in December when Plebs was named Best New Comedy, Tom Rosenthal joked with BCG about strutting around like a winner, and preparing to film Series 2 of the Ancient Rome-based sitcom this March:
Tom Rosenthal will be performing at the Leicester Comedy Festival on the 12th February and Naz Osmanoglu will be performing at the same festival with WitTank on 19th February.
Share this page