Last Tango In Halifax gets Series 3
Last Tango In Halifax gets Series 3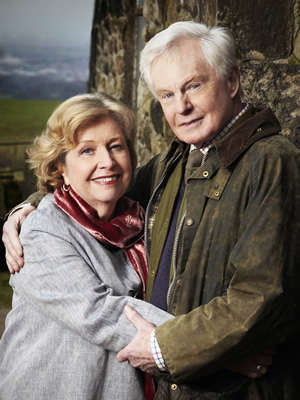 The BBC has today confirmed the commission of a third series of Last Tango In Halifax.
The hit BBC One comedy drama stars Anne Reid and Sir Derek Jacobi as Celia and Alan, a pair of would-be high school sweethearts reunited after decades apart, falling love, planning marriage and uniting their respective dysfunctional families.
Launched in November 2012, the first series was an instant success with viewers and was recommissioned just half-way through its run. Consolidated viewing figures showed the series reaching an average of 7.3 million people across the six episodes.
Series 2, which concludes on BBC One at 9pm tonight (Christmas Eve) has so far averaged 5.66 million viewers in overnight ratings - excluding viewers watching recordings and via on-demand services.
Writer and executive producer Sally Wainwright said today: "I'm so happy we've got a third series, it's so exciting to be able to take these characters further and to find out loads more stuff about them. What's so great about writing for characters like Celia and Alan is that there is a wealth of back story to explore. Series 3 will be a whole new emotional ball game."
Ben Stephenson, Controller of BBC Drama Commissioning, added: "Sally Wainwright's heartfelt scripts combined with the outstanding and stellar cast involved meant we couldn't resist a third series of award-winning drama, Last Tango In Halifax for 2014. I can't wait to see where these wonderful characters and stories will take the audience to next."
Nicola Shindler, executive producer and founder of production company RED, says: "Both series of Last Tango In Halifax have been a hit with audiences and critics alike thanks to the elusive combination of brilliant acting, a sincere and engaging script, and familial trials and tribulations. We are delighted to bring these much-loved characters back for a third series."
Last Tango In Halifax Series 3 will be filmed during 2014 and is expected to be broadcast during November and December the same year.
Last Tango In Halifax has won numerous accolades in the past year. Its wins include BAFTAs for Best Drama Series and Best Writer, three RTS North West Awards, and it has also been shortlisted for Best Drama Series at the Broadcast Awards 2014.
Here is a preview clip from tonight's episode, the finale of Series 2.
Share this page