David Jason reveals Only Fools And Horses may return
David Jason reveals Only Fools And Horses may return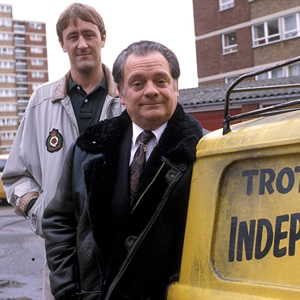 Only Fools And Horses, one of Britain's most loved comedy shows, may return.
Sir David Jason, who played Del Boy in the hit sitcom, has revealed in an interview with The Times that he has been given a new script to read.
OFAH, which launched in 1981, ran for 64 episodes in total. The last new episode was the 2003 Christmas special, Sleepless In Peckham, which saw a bankruptcy court ordering the family home in Nelson Mandela house to be auctioned.
Creator John Sullivan passed away in 2011, however notes of his future episode ideas exist. In fact, as previously reported by British Comedy Guide, a new Christmas special of the show was secretly being planned by the BBC for Christmas 2011, however the commission was cancelled following the death of Sullivan in April that year from viral pneumonia.
According to today's reports, Sullivan's sons Dan and Jim have turned one of their father's ideas into a script treatment which has been passed to David Jason, but he has not yet made a decision on it. Speaking to The Times, Jason said: "I've had a quick look at the treatment and it's very good, but I'm saving the proper read-through until there are no distractions. It's not the sort of thing you can muck about with."
Jim Sullivan previously worked with his father on The Green Green Grass, the 2005 to 2009 OFAH spin-off focused around the characters Boycie and Marlene.
Buster Merryfield, who played Uncle Albert in Only Fools And Horses, died in 1999; meanwhile Kenneth MacDonald, who portrayed barman Mike, passed away in 2001.
Nicholas Lyndhurst (Rodney), John Challis (Boycie), Sue Holderness (Marlene), Patrick Murray (Mickey), Roger Lloyd-Pack (Trigger), Paul Barber (Denzil), Tessa Peake-Jones (Raquel) and Gwyneth Strong (Cassandra) could join Jason in the new episode should it go ahead, although there is no word yet on whether they would be interested.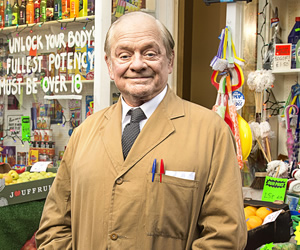 Only Fools And Horses was voted as Britain's favourite sitcom in a 2004 TV poll, however Jason revealed to The Times newspaper that when he was knighted in 2005 the Queen appeared to not know who he was. He explained: "She laid the sword on me and asked what I was up to. I said 'I've been making a Christmas Special of Only Fools And Horses, Your Majesty.'" The star claims this statement was met with a blank stare from the monarch, so he continued: "You know, lovely jubbly, don't be a plonker, creme de menthe...?". He admits: "I felt a bit of a dipstick to be honest."
Jason, who is now 73, is returning to one of his other major television characters this Christmas. He is taking on the role of Granville (pictured) for Still Open All Hours, the new special based on the shop-based sitcom he starred in from 1976 to 1985 with Ronnie Barker.
Below is a preview clip from Still Open All Hours, which is set to broadcast on Boxing Day:
And here is a classic Only Fools And Horses scene, from the 1996 special, in which Del and Rodney breakdown on the way to a fancy dress party:
Share this page