Unseen Porridge material to be screened in documentary
Unseen Porridge material to be screened in documentary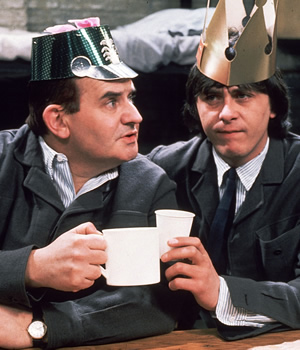 TV channel Gold is working on a documentary series to mark the 40th anniversary of Porridge, the classic prison-based sitcom.
Porridge: The Inside Story is billed as going "behind the scenes of Slade prison to provide unseen material and classic sketches in a three part documentary series about life on the inside of one of Britain's most popular sitcoms".
In a 2004 television poll, Porridge was named one of the UK's top 10 sitcoms. The programme, which was made by the BBC from 1974 to 1977, ran for 20 episodes across three series. It started life as Prisoner And Escort, a pilot during the BBC's Seven Of One strand of Ronnie Barker comedies, and would go on to spawn a movie and its own spin-off, Going Straight
Porridge starred Barker as Norman Stanley Fletcher, a wise and experienced prisoner who was paired in a cell with the green and naïve young prisoner Lennie Godber, played by Richard Beckinsale. The comedy also starred Fulton MacKay as strict Prison Officer MacKay and Brian Wilde as the kind and lenient Prison Officer Barrowclough.
Gold says: "From the pilot episode, through to the Christmas specials, and the spin-off follow up, Porridge: The Inside Story will tell the real story behind the series that left an indelible mark on British comedy."
The documentary will also be accompanied by some new footage. Viewers will be taken on a tour of the pivotal places that writers Dick Clement and Ian La Frenais visited during the creation and development of the series, including the pub where they first met, the prisons they researched, and the little known filming locations they used.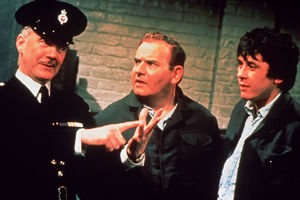 Specially commissioned graphics and 3D animation will also help bring alive the corridors and cells of the fictional Slade Prison, whilst running alongside rarely seen footage from the writers, the BBC and international archives.
Gold adds: "Each meticulously researched documentary will reveal little known secrets, including how the series nearly never happened and how Richard Beckinsale was not the first choice to play Lennie Godber."
The documentary series will also include talking head interviews. The four key actors involved in the show have all passed away, however former cast members including Christopher Biggins (Lukewarm), Sam Kelly (Warren), Tony Osoba (Jock McClaren) and Dudley Sutton (Reg Urwin) will reminisce about the show; whilst contemporary comedians will assess and analyse the impact that Porridge has had on British comedy.
Alongside the documentary episodes, the channel will run a fan vote for viewers to choose their favourite moment, which will be exclusively revealed to both Clement and La Frenais.
Porridge: The Inside Story will be screened on Gold in 2014.
Below is a classic clip in which Fletcher offers some advice to the other prisoners:
Share this page