Johnny Vegas confirms plans to return to ITV's Benidorm
Johnny Vegas confirms plans to return to ITV's Benidorm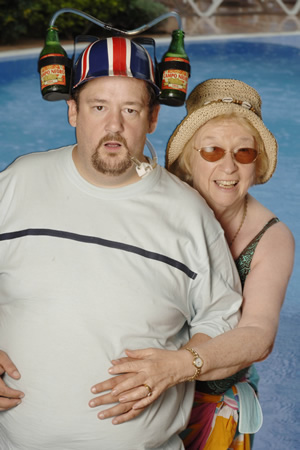 Johnny Vegas has confirmed that he is in talks to return to ITV's hit comedy Benidorm.
The comedian appeared in the first three series of the 'sun and sand' sitcom as Geoff Maltby, aka The Oracle (pictured). A Lancashire pub quiz champion, Geoff attended the Spanish holiday resort each year with his sweet but naïve elderly mother Noreen (played by Elsie Kelly).
Vegas left at the end of the 2009 series, with his character seen drifting off into the sunset with love interest Chantelle Garvey.
Speaking to BCG at The British Comedy Awards, Vegas confirmed the rumours that he was planning to return to the show. Asked if he was coming back, he said "we've talked about it, we're looking at dates". He added: "My schedule is very different now because I've a lot more time with my son... so if it can fit in with that, which would be lovely, it'd be great to go back."
He confirmed the discussions were serious, adding "If the writer [Derren Litten] can make it work and Elsie, me mum [in the show], is free..." He stressed that it wasn't yet confirmed, "but it's looking really good".
A new sixth series of Benidorm has been filmed and is due on air in early 2014. It sees a new family called the Dykes joining the show. Johnny Vegas was not involved in the filming of this series, so his comments are in relation to an expected further - seventh - series of the sitcom.
Vegas has recently written an autobiography, Becoming Johnny Vegas. Published under his real name, Michael Pennington, it has been widely praised by critics. He has indicated that next year he wants to take on some more directing projects, following from his work on the BBC drama Moving On. He said: "I'm really happy now stepping behind the camera."
Vegas was at The British Comedy Awards to hand out a prize to Paul Whitehouse. During his rambling tribute, which caused the show to over-run but was named by many viewers as the highlight of the show, Vegas made a 'barbed' comment about The Office. Shortly after, Ricky Gervais posted on Twitter: "Please don't criticise my multi award winning, half a billion dollar franchise, global hit show The Office. It really hurts."
Below is video of Vegas talking about Benidorm:
Share this page