BBC Two sitcom Episodes gets a fourth series
BBC Two sitcom Episodes gets a fourth series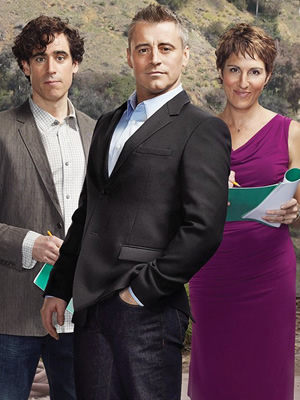 American media is reporting that Episodes, the BBC and Showtime sitcom starring Matt LeBlanc, Tamsin Greig and Stephen Mangan has been renewed for a fourth series before the third has even aired.
The comedy sees Mangan and Greig playing a British writing couple who are re-making their comedy series in the US. They have to deal with Friends actor Matt LeBlanc (LeBlanc is playing a fictionalised version of himself) who has been mis-cast in the lead role.
The comedy has so far run for 16 episodes across two series. The third series will be screened on BBC Two in early 2014, and on US cable network Showtime from the 12th of January, alongside the Showtime re-make of Shameless.
Series 3 will see Sean and Beverly back together, with LeBlanc continuing to see "his career and his ego get pummelled".
The fourth series, again written by David Crane and Jeffrey Klarik, is to go into production in 2014, and will likely be broadcast on BBC Two in 2015. Episodes is produced by Hat Trick Productions, the company behind comedies including Have I Got News For You and Outnumbered.
In the below clip from Series 2, Sean and Beverly have the difficult task of telling Matt he has to lose weight:
Share this page