Plebs named Best New Comedy at British Comedy Awards
Plebs named Best New Comedy at British Comedy Awards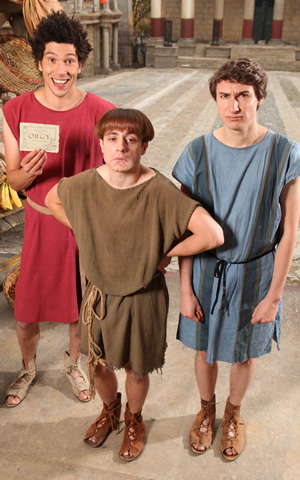 ITV2's Plebs has been named Best New Comedy Programme as part of this year's British Comedy Awards.
The Ancient Rome-set sitcom, which launched in March on the digital channel, was named the winner during a Channel 4 programme which ran through the nominees for the award's other categories.
The comedy, written by Tom Basden and Sam Leifer, focuses on the adventures in the capital of the ancient empire. Although the comedy is set in the past, its characters are seen to have very modern attitudes to life. The series focuses on hapless Marcus, shameless Stylax and their lazy slave Grumio, as the trio attempt to make friends and influence people.
The show stars Tom Rosenthal, Joel Fry and Ryan Sampson with Doon Mackichan, Karl Theobald, Sophie Colquhoun and Lydia Rose Bewley also playing key roles.
Tom Rosenthal, who plays Marcus, says: "We are all so thrilled to have won this award, finally bringing some glory to the Roman Empire. We will celebrate in true Roman style by drinking wine and building an arch."
Plebs was picked by an industry judging panel ahead of fellow nominees Count Arthur Strong, Cuckoo and Psychobitches.
Brothers Sam and Teddy Leifer from production company RISE Films say: "Our parents are in a bind: They're deeply ashamed of this filth we've produced. But now it's won an award they'll feel compelled to brag about it. Either way, Plebs will be the true legacy of the Roman Empire."
Teddy, who produced Plebs, adds: "We're now working on Series 2 in which we make the huge leap forward from 27BC to 26BC. We might even see our Plebs in a chariot. We're very excited to be continuing on this ridiculous journey."
ITV2, which commissioned the show, are said to be "chuffed to bits" to have won the award. ITV's Angela Jain says: "To be recognised by our peers like this is fantastic and in such great company is truly wonderful. Plebs was that perfect show - beautifully written and directed - hilariously realised and performed. It's testament to the combined writing might of Sam Leifer and Tom Basden, to the incredible producing skills of Teddy Leifer and Caroline Leddy and Myfanwy Moore's perfect steering of the good ship Plebs. We couldn't be more chuffed to bits."
Series 2 of Plebs is expected to be screened on ITV2 in mid-2014.
The programme may yet have one more award to celebrate. Writer Tom Basden, who also plays the water boy Aurelius in the show, has been nominated in the Comedy Breakthrough Artist category against The Last Leg's Adam Hills, Count Arthur Strong's Steve Delaney and Chickens' Jonny Sweet. The result will be announced as part of The British Comedy Awards' main ceremony, which will be screened live on Channel 4 on Thursday 12th December from 9pm.
Below is a scene from the first episode of Plebs in which Marcus, Stylax and Grumio attempt to gain access to a nightclub:
Share this page