Channel 4 schedules IT Crowd night, featuring fan vote
Channel 4 schedules IT Crowd night, featuring fan vote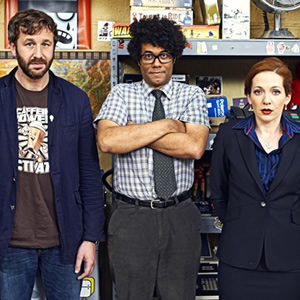 Channel 4 has confirmed the date of a night of programming around its geek-based sitcom, The IT Crowd.
The IT Crowd Night is planned for Christmas Eve (24th December 2013), and will comprise of a repeat of the recent special, a new documentary, a repeat of an episode selected by fans, and writer Graham Linehan's favourite episode.
The IT Crowd was launched in 2006 and ran for four series, with a one-off special broadcast in September this year that is widely regarded as, but not officially confirmed as, the final episode. The studio audience sitcom stars Chris O'Dowd, Richard Ayoade, Katherine Parkinson as three workers in a company's IT department, with Matt Berry as their eccentric boss.
Channel 4 explains: "Blessed are the geeks: for they shall inherit the earth and lo! Tis so as Channel 4 has unzipped and re-uploaded its much-loved sitcom The IT Crowd, dedicating an entire evening to Graham Linehan's multi award-winning show.
"For one night only on 24th December, fans will get to re-boot the 2013 hour-long special, decrypt a new behind-the-scenes documentary, defrag creator Graham Linehan's own favourite episode and click send to vote for their own People's Choice episode to be played on the night."
The new documentary, narrated by Stephen Mangan, will be titled The IT Crowd Manual. Described as "an hour-long geektastic celebration of the sitcom", it will feature classic clips ('how does a fire start in Sea Parks?') plus up-close-and-personal interviews with the basement-dwelling trio: Richard Ayoade, Chris O'Dowd and Katherine Parkinson.
Additionally, Matt Berry, who played self-satisfied boss Douglas Reynholm, reveals how he felt taking the mantle from Chris Morris, and Noel Fielding details the forbidden chemistry that his mild-mannered goth character Richmond Avenal secretly shared with Jen Barber (Parkinson).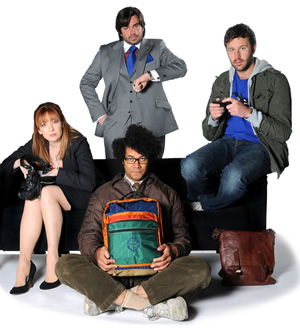 Meanwhile the show's biggest guest stars and fans - including Paul Whitehouse, Danny Wallace, Kevin Eldon, Frances Barber, Matthew Crosby, Boyd Hilton and Lucy Montgomery - share their favourite moments, which include Roy asking people if they've tried "turning it on and off again" and Denholm Reynholm's pension-related suicide.
The documentary will also include insight from Graham Linehan. He gives a guided tour of the iconic basement set which he likens to "the inside of my head and my office... a cheerful mess".
The beloved basement is, of course, packed full of 'nerdnip': PCs, Atari consoles, board games, comics, fangifts and, as far as Jen is concerned, it's home to 'the Internet' itself.
The timetable for The IT Crowd Night on Channel 4 on the 24th December is as follows:
9pm: The IT Crowd 2013 Special: The Internet Is Coming
10pm: The IT Crowd Manual
11pm: The fan's favourite episode
11:30pm: Graham Linehan's favourite episode
Between the episodes there will be links presented by Katherine Parkinson, which have been written and directed by Graham Linehan.
To vote for your favourite episode now visit Channel4.com
In this video Graham Linehan explains more about the voting:
Below is a clip from The Final Countdown episode of the show (Series 4, Episode 2), which sees Moss appearing on Countdown:
Share this page