Citizen Khan gets third series
Citizen Khan gets third series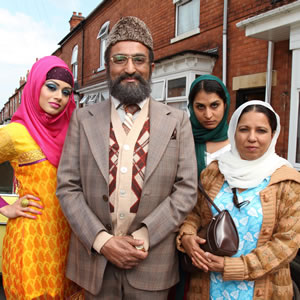 The BBC has commissioned a new series of popular comedy Citizen Khan.
The mainstream studio sitcom hit, created by and starring Muslim comic actor Adil Ray, recently finished its second series on BBC One, and has a Christmas special lined up for broadcast later this month.
Ths channel has now confirmed that it has ordered a 7-part third series, expected to be shown in autumn 2014. The programme is set in the Sparkhill area of Birmingham and follows the British-Asian Khan family and the ups and downs of their life.
The third series will see creator Adil return to the title role alongside Shobu Kapoor, who plays Mrs Khan; Maya Sondhi and Bhavna Limbachia, who play daughters Shazia and Alia; and Abdullah Afzal, who plays Shazia's fiancé, Amjad.
In a statement, Adil Ray said today: "It's testament to the whole team that we have got this far. I just can't wait to get back in the studio with the entire Citizen Khan family. As the great British public get even more familiar with Mr Khan, it really excites me when I think about the places we can go. The Bahamas?"
Charlotte Moore, Controller of BBC One, says: "Adil Ray's finely written family sitcom has grown up on BBC One and established itself as a modern mainstream comedy hit."
Moore and Controller of Comedy Commissioning, Shane Allen, ordered the third series. Written by Richard Pinto and Anil Gupta with additional input from Adil Ray, the series is produced in-house by the BBC comedy department.
The series had featured popular West Indies-born comedian Felix Dexter as local mosque regular Omar. The actor died during the broadcast of the second series after a long battle with cancer. It is not yet known if or how his character will be replaced.
Here's a clip from the recent second series of the sitcom:
Share this page