Voting lines open for British Comedy Awards 2013
Voting lines open for British Comedy Awards 2013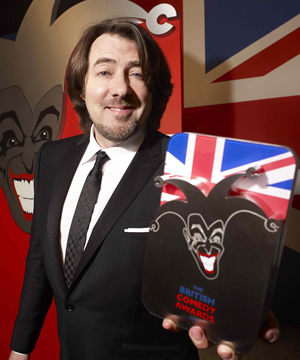 The voting lines have just opened to allow the public to choose who will be crowned King or Queen Of Comedy at the 2013 British Comedy Awards.
The nominees this year have been announced as Alan Carr, David Mitchell, Graham Norton, Jack Whitehall, Lee Mack and Sarah Millican.
Members of the public can choose this year's winner by calling a cheap rate phone number. The numbers to call are at the bottom of this story.
The shortlist, which was compiled via a ballot of The British Comedy Academy, an organisation comprising of previous winners and industry professionals, coincidently mirrors that of last year. The 2012 awards were a closely fought contest, with Jack Whitehall eventually selected as the winner by the public.
This prize is the only publicly voted category at the awards, with the other selections determined by industry juries. The 'King & Queen' category is defined as "recognising the nation's most popular comedian in a specific year, either a male or female, individual or double-act/troupe. Nominees are longlisted on the basis of a performer or performers' body of work during the year of eligibility, recognising those whose success has been most prominent during that year." This has been running since the 2010 awards, with Sarah Millican winning in 2011 and Miranda Hart taking the crown in the inaugural year.
Channel 4 teases: "Just who will be the newest member of the royal family of funny? Who will spend the next year luxuriating in laughter from their comedy castle? Will current King Jack Whitehall keep his crown or be booted from the Throne of Fun? Only you, British public, can decide!"
The British Comedy Awards, sponsored by Foster's, will be broadcast live on Channel 4 on Thursday 12th December. Presented once again by Jonathan Ross, the 15 categories include Best Sitcom, Best Comedy Actor and Best Comedy Actress, the Outstanding Achievement Award, The Writer's Guild of Great Britain Award and the award for International Achievement. Nominees will include Mel & Sue, Ant & Dec, Adam Hills, James Corden and Miranda Hart.
The full list of nominees will be revealed on The British Comedy Awards Nominations Show, which will be screened next Wednesday 4th December at 22:45pm on Channel 4.
To find out more about the awards visit www.britishcomedyawards.com
Below are the numbers to call to vote for your favourite. Calls from mobiles and BT landlines cost just 35p (other landlines may vary).
---
ALAN CARR
Mobile: 6 50 58 01
Landline: 09020 50 58 01
---
DAVID MITCHELL
Mobile: 6 50 58 02
Landline: 09020 50 58 02
---
GRAHAM NORTON
Mobile: 6 50 58 03
Landline: 09020 50 58 03
---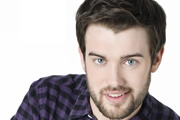 JACK WHITEHALL
Mobile: 6 50 58 04
Landline: 09020 50 58 04
---
LEE MACK
Mobile: 6 50 58 05
Landline: 09020 50 58 05
---
SARAH MILLICAN
Mobile: 6 50 58 06
Landline: 09020 50 58 06
---
You may vote more than once. Full terms and conditions at channel4.com
Voting lines will be open until approximately 10pm on the night of the awards (Thursday 12th December), with Jack Whitehall announcing the result live on Channel 4 shortly after as part of the ceremony.
Share this page