Micky Flanagan to star in sitcom pilot
Micky Flanagan to star in sitcom pilot
Micky Flanagan has revealed he's working on a new TV sitcom project.
Talking on BBC Breakfast, he confirmed he had taken some time off performing to write a pilot script loosely based on his real life. The comedian, who was brought up in London's traditionally working class East End, now lives in the middle class area of Dulwich with his wife and son.
He said: "I've been sitting down writing the first drafts of a sitcom which I want to do." Elaborating further, he then explained: "It's going to be purely based on me. I didn't want to expand beyond that. I know myself. Write about what you know."
Asked by presenter Bill Turnbull, "So it's about an East End boy who makes good and then eats organic food and stuff?", Flanagan confirmed: "Yes, and then occasionally pops to KFC for a treat."
Flanagan is described in his own biography as "an East End boy done good". He grew up on a council estate in Bethnal Green and left school at age 15 with no qualifications to work as a porter at Billingsgate Fish Market. He has held many jobs since, and it wasn't until 1996 - aged 34 - that he decided to give stand-up a try and attend a comedy course.
He was nominated for an Edinburgh Comedy Award eleven years after starting out and became a regular on Radio 2's stand-up show Out To Lunch the following year, 2008. His first major TV credit was Michael McIntyre's Comedy Roadshow in 2009. His comedy career has since blossomed with numerous TV appearances alongside sell-out live performances.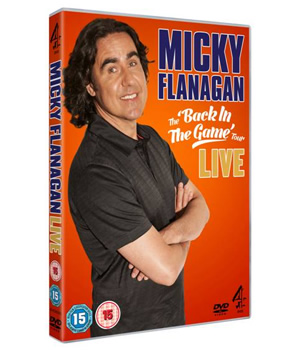 Flanagan was appearing on BBC Breakfast to promote his new DVD (pictured). He didn't reveal much more about the sitcom project during the discussion, so it is currently unknown whether it is a single camera or studio audience-style show, and which channel the comedy is aimed at.
In December 2011, Flanagan signed an exclusive development deal with Channel 4, but this is believed to have now expired. He is currently appearing as a team captain on Channel 4's Was It Something I Said?, but was also recently a regular panellist on the BBC's I Love My Country.
Asked of his sitcom, "Is it going to be called Micky?", the comedian replied: "We might go a bit further than that but, yeah, probably as simple as that".
The trial episode is set to be filmed in early 2014, with Flanagan confirming "We're going to look to do the pilot in the new year."
Flanagan is currently performing The Back In The Game Tour 2013 around the country. Last month he postponed major arena gigs at the Brighton Centre and O2 Arena following the death of his mother. These have now been re-scheduled for early December.
The 'Back In The Game' Tour DVD is released in shops today. Speaking in the BBC interview about this, his second DVD, he said: "The first tour was so successful that I knew I had my work cut out to write another."
Here is the full 8 minute BBC Breakfast interview, including clips from the DVD:
Share this page