Ben Elton hints that Blackadder is not finished
Ben Elton hints that Blackadder is not finished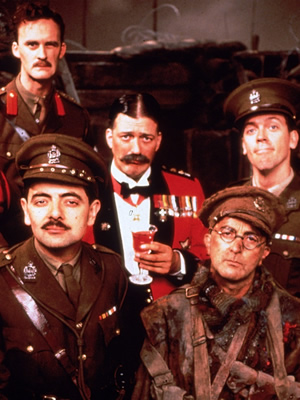 Blackadder, one of Britain's most popular sitcoms, could return one day.
Ben Elton, who co-wrote three series of the hit comedy alongside Richard Curtis, has given a hint that the core team don't necessarily consider the show finished.
Speaking to The Mail on Sunday, Elton said: "Blackadder is not finished. We'll never officially close it down... ever."
The comedy is now 30 years old. Written by Richard Curtis and star Rowan Atkinson, The Black Adder launched on the BBC in 1983. Following a lukewarm reception to the first series, the programme was re-tooled as a sitcom set in the 1550s with Ben Elton replacing Atkinson on the writing team. The show quickly took off and further series followed, with the third run set in the Regency period and the fourth based in the trenches of World War I.
Blackadder is now regarded as one of the country's most popular television series. A major national poll in 2004 saw it voted as the second greatest British sitcom of all time, behind Only Fools And Horses, whilst an internet poll last year saw it voted the best British television series ever.
The most recent filmed episode was Blackadder Back & Forth, a one-off special produced by Sky1 for screenings at the Millennium Dome in 2000. However, the show's central character lives on. In November 2012, Atkinson appeared in a stage sketch as Sir Edmund Blackadder, chief executive of a bailed-out bank, for We Are Most Amused, a gala night in aid of the Prince of Wales's charity.
It should be noted there are no official plans to bring back Blackadder, however speaking in the same article as Elton, producer John Lloyd added: "It was always the idea that the last episode would be this tragic thing, but I don't think we ever decided that it would be the last series. And I suppose in many ways we still haven't decided."
This is the second time this year further adventures for the character Blackadder have been hinted at. As previously reported, in July Lloyd revealed that he and Rowan Atkinson had the idea of making either a new series of the show or a feature film, set during the Second World War.
Speaking on BBC Breakfast he said: "Rowan and I had this great idea - because we're all getting a bit old now - of doing a Dad's Army, that [the characters] are a platoon in Walmington-on-Sea, and they get kidnapped by a German submarine and taken to Colditz and they all have to escape."
Lloyd and Elton were talking to The Daily Mail for a feature linked to Remembrance Sunday explaining how the moving final scene of Blackadder Goes Forth was produced. Below is footage from a previous BBC documentary explaining how the studio scenes were considered a disaster and it was only in the edit suite later that the idea of slowing down the picture and overlaying a field of poppies was devised:
Update, 12th November: It has now been reported that, when receiving his knighthood today, Sir Tony Robinson recruited Prince William for a guest role in Blackadder, should a fifth series ever be produced.
Robinson explained: "He said that he was a big fan of Blackadder and was there going to be another series? I said we have always talked about it. I said to him "Would you be prepared to be in it?" He said "Yes" like a shot.
"I managed to do a bit of casting while he was awarding my knighthood. I think that is probably a first."
When asked by journalists if there would be a new Blackadder series, Sir Tony joked: "I don't know if we can afford Hugh Laurie."
Here is a video in which Robinson explains the investiture ceremony and his encounter with the Prince to the Mail Online:
Share this page