Channel 4 orders a second series of Man Down
Channel 4 orders a second series of Man Down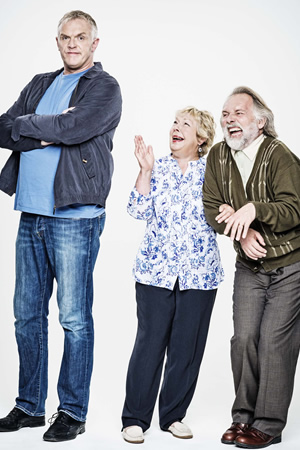 Channel 4 has ordered a second series of Man Down, its new comedy about a teacher with crushing character flaws.
Written by and starring Greg Davies, the comedy is currently broadcasting on Friday nights. Despite being only three episodes into its run, it was revealed today that the network has already ordered a second series.
Man Down follows the story of Dan, a childish idiot trapped in an adult's life who is trying to get back with his girlfriend (Deirdre Mullins). He has two dysfunctional friends, played by Roisin Conaty and Mike Wozniak, helping him through life, whilst his father - Rik Mayall, in his first sitcom role for a number of years - is constantly playing cruel pranks on him.
The comedy launched to a mixed response from both audiences and critics, but the three episodes broadcast to date have attracted an average audience above one million viewers.
Speaking to the Radio Times, Channel 4's head of comedy Phil Clarke says: "We are delighted it's coming back for a second series. It's such an original piece of work and Greg Davies has proved that he can carry his own comedy as writer and lead character. People love him and it has been a genuinely popular show."
Deputy Head of Comedy, Nerys Evans, who re-commissioned the show, comments: "Greg has demonstrated himself to be a brilliant writer and performer over the first series of Man Down. We can't wait to see what else he's planning to put himself through in the name of comedy for the second series".
Greg Davies himself remarks: "I'm so delighted that Channel 4 has given me and the team another series of Man Down. Great news for us, terrible news for the characters..."
The new series, which will be filmed and broadcast next year, will comprise of six episodes.
Davies has spoken in an interview about how much he enjoys working on the show, saying of Series 1: "I thought it was really good fun to shoot - we had a brilliant, lovely crew. Sometimes it doesn't work, 35/40 people together trying to make something creative, what are the chances of it clicking, but it really did click with this group. I don't think you'd meet anyone who'd tell you we didn't have fun."
Meanwhile Rik Mayall said in an interview in advance of the first series: "I would like this series to be a success so that it gets another series and another. I would really like the opportunity to explore the character of Greg's dad fully.".
The six-part Series 1 of Man Down continues on Friday night at 9:30pm, with a Christmas special due to follow at the end of the year.
Below is a preview clip from this Friday's show, in which Dan visits the house of motivational guru Dominic:
Plus here is a video of Greg trying to interview his fellow cast member Roisin Conaty. For further videos and written interviews, see our guide.
Share this page