BBC confirms another series of Charlie Brooker's Weekly Wipe
BBC confirms another series of Charlie Brooker's Weekly Wipe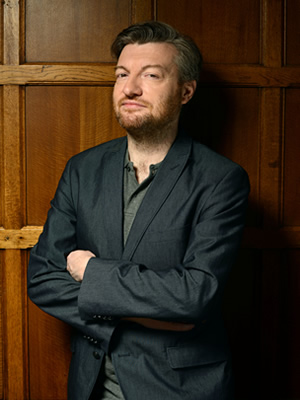 BBC Two has confirmed that Charlie Brooker's Weekly Wipe will return to the channel in early 2014 for a new six-part series.
The producers says: "Charlie Brooker's Weekly Wipe will return to BBC Two to squeeze some fun from a troubled world in early 2014. Whether it's news, or film, TV, or Twitter, if it's making the agenda and it's worth pointing a finger and laughing at Charlie will tackle it. And if there's nothing to tackle then expect lengthy chunks on the worst adverts or most pointless events."
British Comedy Guide previously revealed plans for a second series, however it is only today that the news has been made official.
As with the first series, itself a spin-off from the BBC Four series Charlie Brooker's Screenwipe and Charlie Brooker's Newswipe, Charlie Brooker will dissect the week just gone in his own unique style.
The programme will also see the return of 'American misanthrope' Doug Stanhope, who will take on subjects as varied as America's reputation for violence and immigration; plus the format's fictional TV critics Philomena Cunk and Barry Shitpeas (played by Diane Morgan and Al Campbell) will appear again "with their very individual perspective on the week's unmissable telly".
The second run will also feature additional contributors. Brian Limond, best known as the star of BBC Scotland's Limmy's Show!, and YouTube star Jake Yapp, will also provide contributions this series.
The producers joke: "January is grey, futile, cold and depressing, so why not tune in to Charlie Brooker's Weekly Wipe to discover why."
BBC Two also confirmed Brooker would return for his annual look back at the year just gone. The presenter has now fronted an episode of Charlie Brooker's Year Wipe at the end of each year since 2010.
The BBC describes the special as follows: "Charlie Brooker's 2013 Wipe is a high octane glance back at the year in which almost nothing happened, apart from meteors, edible horses, cyclists on steroids, insurgents in Mali, fake space monkeys, Splash, Oscar Pistorius, the Pope resigning, a new Pope, Christopher Dormer, The One Show, Chris Huhne, Gogglebox, Bedtime Live, Thatcher's death, a Beiber backlash, Miley Cyrus, twerking, Dogging Tales, the Castro kidnappings, snooping, Snowden, a royal baby, Your Face Sounds Familiar, Egypt, Godfrey Bloom, the Damian McBride diaries, Diana... the film, GTA5, Sex Box, hurricanes, storms, Russell Brand on Newsnight and an American Government shutdown."
Un-related to the above, the comic presenter is also due to shortly front a one-off documentary for Channel 4 about computer games. How Video Games Changed the World is described as "an intelligent, funny and entertaining look at some of the most influential and iconic video games in history (even the absolutely dreadful ones)".
Below is a clip from the first series of Charlie Brooker's Weekly Wipe, in which the host reviews ITV entertainment show Splash!:
Share this page