Filming begins on Series 3 of Rev
Filming begins on Series 3 of Rev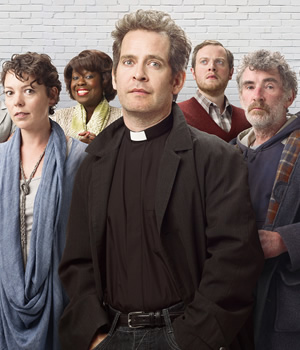 Filming has begun on the third series of Rev, BBC Two's hit ecclesiastical sitcom.
Six episodes of the multi-award-winning comedy are in production, intended for broadcast in early 2014.
The news is being warmly greeted by fans, who have been waiting since December 2011 for more episodes. The delays have been due to the fact the producers have struggled to get the cast together at the same time. In 2012 writer James Wood jokingly commented the actors were all now "too bloody successful".
The new run of episodes will see all the main cast returning to the show, led by the award-winning pairing of Tom Hollander and Olivia Colman.
The series will ask big questions of the Reverend Adam Smallbone (Hollander) as he and his wife Alex (Colman) adjust to life as new parents in the inner city parish of St Saviour's, Hackney.
The BBC says: "How will Adam cope with parenthood on top of his small but demanding congregation? Can he manage being a father and a Father?

"The new series brings a host of new and returning characters to meet St Saviour's band of lost but loveable misfits in stories that see Adam pushed to the limits of priestly endurance. Can he continue to fight the good fight against indifference, the worst aspects of his institution and his own tendency towards temptation?"
Re-joining Hollander and Colman are the ensemble cast of Simon McBurney (Archdeacon Robert), Miles Jupp (Nigel), Steve Evets (Colin), Ellen Thomas (Adoha), Lucy Liemann (Ellie) and Jimmy Akingbola (Mick).

The new series will also see Twenty Twelve star Hugh Bonneville reprising his guest role as Adam's old friend and fellow vicar, Roland Wise.
Meanwhile Getting On stars Joanna Scanlan and Vicki Pepperdine become series regulars as Jill and Geri, The Area Dean and Diocesan Secretary who have St Saviour's firmly in their sights for possible redevelopment.
Additionally, Dexter Fletcher will guest star as Mike Tobin, a Turner-award winning artist who befriends Adam in unusual circumstances; and Fonejacker's Kayvan Novak will appear as the local Imam.
James Wood is again the lead script writer, but this series also sees Tom Hollander penning his first solo episode - having co-created the sitcom with Wood - and a further script from Peep Show co-creator Sam Bain.
The Full Monty's Peter Cattaneo returns as director, working alongside new producer Polly Buckle (Being Human).
The show is produced by Big Talk Productions. The company is also the maker of BBC Two's Ambassadors, the Mitchell & Webb comedy drama, also written by James Wood, alongside Rupert Walters. The second episode, broadcast last night, featured Hollander guest starring as a minor royal.
Scheduling details for Rev Series 3 are expected to be announced in early 2014.
As previously reported, the ABC network in America is currently exploring the idea of re-making the sitcom for a US audience.
Below is a clip from the last series in which Adam comforts Joan (guest star Sylvia Syms):
Share this page