Guest stars announced for Blandings Series 2
Guest stars announced for Blandings Series 2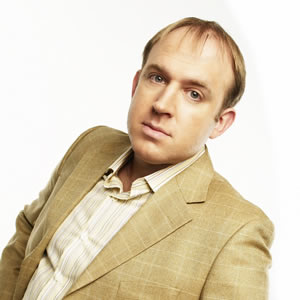 The BBC has released more details about the second series of Blandings, the comedy series based on PG Wodehouse's classic stories.
Comedian Tim Vine is taking over from Mark Williams in the role of Beach, Blandings castle's long-suffering and loyal butler. No reason has been given for Williams's departure, however it may be due to workload as The Fast Show star also now holds the lead role in BBC drama Father Brown.
Tim Vine (pictured) will join cast members Timothy Spall and Jennifer Saunders as they reprise their roles as the absent-minded Lord Emsworth and his indomitable sister Connie. The series will also once again star Jack Farthing as Clarence's feckless son Freddie, and will see more appearances by Robert Bathurst as Sir Gregory Parsloe and Ron Donachie as tyrannical head gardener Angus McAllister.
Today's news marks a return to acting for Tim Vine. The pun-driven stand-up comedian starred in five series of the prime-time sitcom Not Going Out but left the hit show last year explaining "I simply fancied a change".
Guest stars have also been announced for the new Blandings scripts. The cast list includes Julian Rhind-Tutt (Green Wing), Celia Imrie (Love & Marriage), Harry Enfield (Harry & Paul), Mathew Baynton (The Wrong Mans), John Sessions (Just William), Daisy Beaumont (You, Me & Them), Zoe Boyle (Downton Abbey), Michael Brandon (Episodes), Nichola McAuliffe (Surgical Spirit) and Jemima Rooper (Atlantis).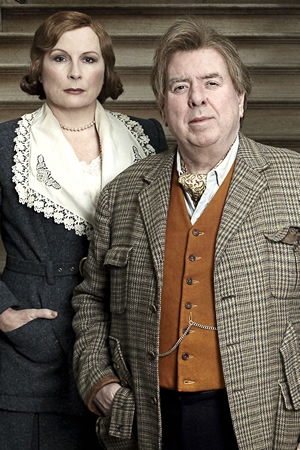 Filming is about to begin on the new seven-part second series at Crom Castle in Northern Ireland.
This time around, Clarence faces the prospect of being committed to an asylum thanks to an obnoxious house guest. He is also disgraced at the hands of his incorrigible brother Galahad; encounters a leather-gusseted religious maniac; a visiting Hollywood film crew; and his terrifying sister Charlotte. There's also subterfuge, kidnap and rivalry with 'Stinker Parsloe' as the two race in the biggest pumpkin and fattest pig contests.
Writer Guy Andrews explains: "As ever, all Clarence wants is to be left in peace with his beloved pig. But events conspire against him as never before.
"His incorrigibly rakish brother Galahad is on the prowl with a glittering monocle and a case full of shocking memoirs. Other guests and impostors include a voracious Hollywood producer, a dancing saxophonist secretary, Clarence's frankly terrifying sister Charlotte and - worst of all - the poker-wielding Duke of Dunstable, the rudest man in Shropshire. Will tranquillity ever reign at Blandings Castle, even for an afternoon?"
The second series of Blandings will be shown on BBC One in early 2014. The first series, which ran for six episodes during January and February this year, attracted an average audience of 4.46 million viewers to its early evening 6:30pm Sunday slot.
Below is a clip from the first series in which Freddie and Clarence bump into McAllister the gardener:
Share this page