NBC orders American version of BBC3 sitcom Cuckoo
NBC orders American version of BBC3 sitcom Cuckoo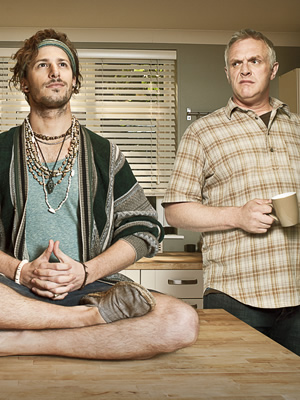 BBC Three sitcom Cuckoo is set to be remade in America.
The NBC network has ordered a pilot of a new US adaptation of the comedy, having secured the rights from production company Roughcut Television.
The original British version of the show, which launched in October last year, focusses on a middle class family who must learn to live with their daughter's new slacker husband, Cuckoo. Greg Davies plays the father of the family, with Saturday Night Live and Lonely Island star Andy Samberg playing the titular character. The comedy also stars Helen Baxendale, Tamla Kari and Tyger Drew-Honey.
The series rated well last year and also enjoyed a repeat run on BBC One. BBC Three announced earlier in the year that it had ordered a second series from writers Robin French and Kieron Quirke.
US industry blog Deadline broke the news of the NBC commission. It reports that French and Quirke will work on the pilot script, with The Simpsons' Tim Long acting as showrunner on the project.
It is currently unclear whether the network is planning to cast Samberg in the American version of the show too. It is thought to be unlikely, as he is contracted to work with Fox on new police comedy Brooklyn Nine-Nine.
Cuckoo becomes the latest in a string of British formats being piloted abroad. Other recent pilots include Spy, Gavin & Stacey and Feel The Force. Additionally a full series remake of Channel 4's ambulance comedy Sirens is in production, and a new American version of hospital comedy drama Getting On is due to start on HBO in November.
Greg Davies, who plays Ken in Cuckoo, established his sitcom acting career through playing Mr Gilbert in The Inbetweeners. His new self-penned sitcom, Man Down, which has been attracting positive preview reviews, starts on Channel 4 on the 18th of October.
BBC Three has yet to set a transmission date for the second series of Cuckoo.
Below is one of the trailers used to promote the first series:
Share this page