Jennifer Saunders criticises BBC management
Jennifer Saunders criticises BBC management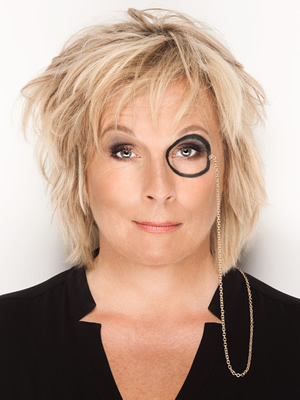 In an interview with Glamour Magazine, Jennifer Saunders has criticised the BBC for being too focussed on management.
When asked about how the broadcaster had changed since she started working there in the mid-80s, the Absolutely Fabulous star remarked upon how many layers of management there were at the corporation now.
She said: "It's unrecognisable now. It's become top-heavy in such an ugly way. They went corporate instead of being what they should be which is a national resource which trains people and curates the best programmes, encourages talent and provides great news. They just became an executive-run place for idiots."
In reference to the BBC's Creative Director, who is still being paid over £320,000 a year despite a move by former Director-General Mark Thompson to have the position removed, Saunders said: "How is Alan Yentob still allowed in the building? There are questions that need to be answered!"
She continued: "I remember when it was fun to be there and everybody in the building looked like they really knew something and were good at something. Now they have things like massive workshops on decision making and you think 'If you're a head of department at the BBC and you don't know how to make a decision, why are you in that job? That's the only thing that you have to do!'"
The writer and actor also attacked the expenses culture of management at the national broadcaster, explaining: "You were called into these special lunches with the Director-General at The Ivy and you were like, 'Fuck off! This is the license payers' money! I'm paying for the car to take me there - we all are. And I'd like an extra bit of budget on my programme, please, and less of your wheels.'"
Saunders also spoke in the interview about her sitcom Absolutely Fabulous, quashing rumours of a film spin-off. A potential Ab Fab movie has been mooted since 2011, however the creator told the magazine: "It'll never happen. We've been talking about it for so long and now I've just got this feeling that Ab Fab is in such a nice place now - if we made the film there would be such a danger that we could ruin it."
Story update, 9th October: Speaking on Radio 4, it seems Saunders has now changed her mind and might do a film. She said: "I've got some little pet projects that I keep tinkering away with. One of them might be the Ab Fab film, I don't know. As we're going into winter, a nice little summertime film seems rather attractive." Full Story
Jennifer Saunders was talking to the magazine to promote her autobiography, Bonkers: My Life In Laughs, which is out later this week.
Saunders is due to star in a second series of the BBC's PG Wodehouse comedy drama Blandings next year.
Below is a clip from the most recent episode of Absolutely Fabulous, which was broadcast to coincide with the London Olympics in August 2012. No further specials have been announced since, but the idea of making more episodes of the sitcom has not been ruled out.
Share this page