Cilla Black and Paul O'Grady to star in new Marks & Gran sitcom
Cilla Black and Paul O'Grady to star in new Marks & Gran sitcom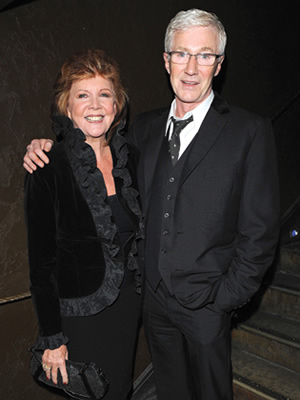 Cilla Black and Paul O'Grady have been revealed as the stars of a new sitcom from Laurence Marks and Maurice Gran, the creators of hit series The New Statesman, Birds Of A Feather and Goodnight Sweetheart.
Led Astray, which is a pilot for BBC One, will see the duo - who are long-term friends in real life - playing long-lost siblings.
The plot is described as follows: "Tanya (Cilla Black) discovers she has a long lost half-brother Arthur (Paul O'Grady), currently serving time in HMP Wymott. It seems they will never really get to know each other, but with some skilful forging Arthur fixes his release - the only conditions: he wears an electronic tag and stays with his newly found half-sister Tanya."
Black is best known as a singer and light-entertainment television host with a string of high-rating ITV credits, including Blind Date and Surprise Surprise. She celebrated 50 years in showbusiness on Friday, having released her first single - Love of the Loved, written by Beatles Sir Paul McCartney and John Lennon - on 27th September 1963.
O'Grady has recently made a cameo appearance in medical drama Holby City, and was best known for his stand-up comedy career in drag as Lily Savage, but has over the past decade become better known for his ITV/Channel 4 daytime chat shows. Cilla Black sat in for him as host on a number of occasions when he went on holiday.
Last broadcast in 2009, The Paul O'Grady Show will begin a new incarnation on ITV in November.
The pair also appeared together briefly in the BBC One documentary mini-series Paul O'Grady's Working Britain last month. The programme was a personal journey by the host into his working class roots and traditions. Led Astray is believed to be their first acting roles together.
Having concentrated on hosting his chat show since 2004, O'Grady has shied away from his comedy origins in recent years, but returned in the one-off Sky Arts comedy drama Nellie And Melba in April 2012, broadcast as part of the Playhouse Presents strand. He also wrote and starred in his own installment of Sky1's Little Crackers series of Christmas comedies in December last year.
Otherwise, Paul O'Grady's most recent acting role was as the lead in BBC One sitcom Eyes Down. He starred as bingo hall manager Ray Temple in the comedy, which ran for two series in 2003 and 2004, alongside the likes of Sheridan Smith, Rosie Cavaliero and Neil Fitzmaurice.
Meanwhile, next Monday - 7th October - will see the DVD release of two sitcom series starring Cilla Black. Cilla's Comedy Six and Cilla's World Of Comedy are not believed to have been broadcast since 1975 and 1976, respectively, when they showcased the young entertainer's acting talents in six individual and unconnected sitcom episodes each.
Information about Cilla's Comedy Six on DVD and Cilla's World Of Comedy on DVD are available on this website.
The pilot for Led Astray will be directed by Ed Bye (Red Dwarf, Vicious, My Family, Absolutely Fabulous, The Detectives) and filmed at the BBC's Elstree Studios on Thursday 31st October. To apply to be in the audience see our free tickets page
The news comes as filming on a brand new series of writers Marks & Gran's most successful sitcom, Birds Of A Feather, has just started. After almost 15 years since a new episode was last broadcast, a tenth series has been ordered, with the first episode having been recorded on Saturday evening in Central London. Originally a BBC One comedy, the sitcom is being revived by ITV.
Here is a clip of Cilla Black and Paul O'Grady singing together on his chat show's Christmas special in 2010:
Share this page