Peep Show to end
Peep Show to end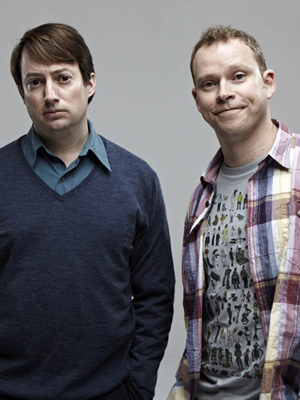 Peep Show, the cult hit Channel 4 sitcom starring David Mitchell and Robert Webb, is to end.
The comedy, which follows dysfunctional flatmates Mark and Jeremy, was first broadcast in September 2003. A ninth series is currently on order. Expected to broadcast late in 2014, it now seems likely it will be the last new episodes of the show.
In an interview published today by comedy website Chortle, Channel 4's Head of Comedy, Phil Clarke, revealed he is currently in discussions with writers Sam Bain and Jesse Armstrong about "how it's going to conclude".
He said he was "sure" the comedy would be ending, explaining: "We're talking about Peep Show, how that's going to be rounded off."
The news will not come as a surprise to Peep Show fans, with the sitcom's stars both individually having implied over the past year that the show is nearing a natural conclusion.
The series has notoriously faced cancellation numerous times in the past, having attracted widespread critical acclaim but never more than a small, cult following with audiences and weak ratings. However, Channel 4 have continued to show faith in the programme, with its most recent two recommissions each consisting of two whole series.
However, the programme helped make names of its star duo, Mitchell & Webb. In the same year that Peep Show began, they launched their own BBC Radio 4 sketch show, That Mitchell & Webb Sound, which will return in November after a four-year hiatus. The series transferred to television as the popular That Mitchell And Webb Look, whilst David Mitchell has become a regular on the television panel show circuit.
The pair will next be seen on screen together later this year in new BBC Two comedy drama Our Men. Mitchell will play the British ambassador, and Webb his Mission deputy, to the (fictional) ex-Soviet country of Tazbekistan.
Similarly, writers Sam Bain and Jesse Armstrong have found success with other formats in recent years, notably Channel 4 comedy drama Fresh Meat about a group of undergraduates in a house share whilst studying at The University of Manchester. Starring Jack Whitehall, Greg McHugh and Kimberley Nixon, the comedy will return for a third series later this Autumn.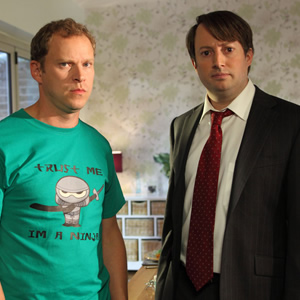 The news comes as Channel 4 prepares to broadcast the finale of one of its few breakthrough hit comedies of recent years. Graham Linehan's popular studio sitcom The IT Crowd will broadcast a special episode this Friday, which is widely expected to be its last.
Linehan is already working on a new comedy with Channel 4. Clarke explained today: "hopefully you'll see that next year, or if not it'll be in pilot". Adam Buxton recently revealed to the British Comedy Guide that he and Linehan have co-created a sci-fi comedy drama, but it is not know if this is the same project that Clarke refers to.
Peep Show writers Bain & Armstrong, meanwhile, recently cancelled plans for a new comedy series with Channel 4. Bad Sugar, piloted in Summer 2012, is a spoof of Latin American 'telenovela' melodramas, and had been commissioned to a full series by the channel. However, it ultimately proved impossible to get both the writers and highly in-demand cast - including co-creators Olivia Colman, Julia Davis and Sharon Horgan - together at the same time to commence production.
Whilst a series of Bad Sugar is still in consideration for some point in the future, the writers have also spoken of possible movie plans for both Peep Show and Fresh Meat, which are likely to consume much of their time in the following few years if given the go-ahead. They are also working with director Danny Boyle to make the police-based comedy drama pilot Babylon.
See also: 10 years of Peep Show
Below are clips from the last series of Peep Show:
Share this page