Channel Dave announces new comedy, Spending Dave's Money
Channel Dave announces new comedy, Spending Dave's Money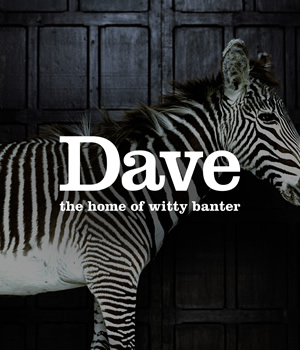 Digital channel Dave has announced another commission to add to its expanding line-up of home-grown shows.
Spending Dave's Money is a new format in which celebrities travel the globe with the aim of spending the channel's cash. In each episode a pair are dropped into an unfamiliar place and challenged to spend up to £10,000 in just 24 hours.
However, the stars cannot spend the money they are given on just anything - they must adhere to a strict set of rules. The double acts must have absolutely nothing to show for their spending spree and can only gamble away a maximum of 10%, which they can place on strategic bets they hope to lose. Plus, the globetrotters will face 'an outrageous forfeit' if they fail to spend every last penny of the local currency.
The channel has initially ordered five hour long episodes from production company Renegade Pictures.
The full line-up of guests has not yet been announced, but it is known that Susan Calman partnered with Phil Tufnell to visit Reykjavik in Iceland last month. Additionally, at the time of writing, Richard Herring and David Baddiel are in Yerevan in Armenia to film an episode.
Executive Producer Harry Lansdown explains: "It's a very bold commission that takes Dave into exciting places and forces some of the UK's funniest, most popular personalities out of their comfort zone, as they battle with the challenge of getting rid of the cash in a country they've never been to before."
UKTV Commissioning Editor Hilary Rosen says: "Renegade has come up with an exciting and unique format that completely fits with the witty and edgy nature of Dave. Spending Dave's Money puts an unconventional spin on the hugely popular comedic travelogue format by taking the money, and ultimately the control, out of the producers' hands, and giving it to the talent. That's what makes it such an exciting and unpredictable watch full of fast-paced, off-the-wall adventure - absolutely anything could happen."

Channel boss Steve North adds: "This is another incredibly exciting commission to add to the raft of new shows that Dave has been bringing to our audiences. Dave is always looking to work with great talent to push the boundaries of smart, irreverent and witty TV and we believe this show will absolutely do this. Following our celebrities as they're forced to splash the cash in creative and ingenious ways in such a short space of time should make for very entertaining TV."
Spending Dave's Money is scheduled to air on Dave in the second quarter of 2014.
The commission is part of UKTV's heavy investment in new shows. The network has announced it is on course to invest a record £110 million in programming in 2013 across its 10 channels.
Dave is currently broadcasting Gorman's Modern Life Is Goodish and other forthcoming new shows for the channel include comic storytelling show Crackanory and Ross Noble Freewheeling, in which the comedian's movements are dictated by fans on social media.
Share this page